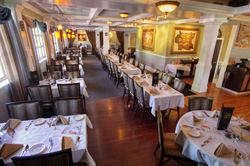 Cupertino, CA (PRWEB) September 29, 2014
Arya Global Cuisine is happy and proud to announce that they have been serving the Palo Alto and San Jose, CA area for seven years. In order to commemorate their years of serving delicious Middle Eastern food, the restaurant is celebrating every weekend during the month of September.
Throughout September, Arya has had different bands and belly dancers every weekend in order to give everyone a chance to celebrate with them. They kept their regular menu for special events, so that customers could order their favorite Arya dish.
Arya prides itself on serving the best Persian food in northern California, while maintaining a warm and welcoming atmosphere. The restaurant thanks everyone who has come out to celebrate them this month.
Much has changed in the past seven years, but Arya is very grateful to have made so many great friends along the way. Arya Global Cuisine has two locations to ensure that everyone is able to enjoy Arya's delicious Persian food at a location that is convenient to them. Arya is located in Cupertino, serving the Silicon Valley area, and in Redwood City, serving the Peninsula area.
The restaurant invites everyone to come celebrate with them for the rest of September and enjoy Arya's delicious cuisine at any time of the year. Cheers to seven years of Arya, and here's to many more!
About the company:
San Jose's Arya Restaurant is a Middle Eastern restaurant that features belly dancing, global cuisine, and delicious and exotic Persian and Italian food. With two locations in Redwood City and Silicon Valley/Cupertino, the restaurant is the result of Chef Mike Hashemi's love for Persian and Italian food, as well as his love for cooking and serving people with the best of both worlds. Arya's San Jose banquet rooms are available for every occasion as well as corporate catering and private dining. Arya is the premier Persian restaurant in Cupertino and Redwood City, California. They are committed to providing each and every guest with superior service and a pleasant dining experience. For more information, visit their website at http://aryarestaurant.com.