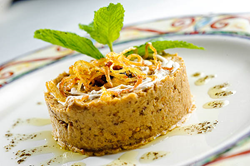 Cupertino, CA (PRWEB) November 17, 2014
The holiday season is almost here, and that means it's time to start planning holiday parties. Arya Global Cuisine is offering the perfect solution for all group events with their many packages available, from plated to buffet-style packages and more.
Arya offers two great locations to choose from in Cupertino or Redwood City. They have banquet coordinators to help customers with the planning, decorating and coordinating with photographers and musicians. Arya also offers live music, belly dancing and DJ services.
At Arya, it's easy to please everyone no matter what their pallet. Their menus have exotic ingredients such as saffron, barberries, dates, lentils and pomegranates. Arya also has Mediterranean dishes with seafood, such as cioppiono, fettuccine fruitti di mare, salmon pesto in a sun-dried tomato sauce, as well as red velvet salmon in a special sauce with sour cherries.
Their Persian dishes include baghali polo with lamb shank, basmati rice mixed with dill weed and lima beans with braised lamb shank so tender it falls off the bone as well as shirin polo with charbroiled chicken shish kebab, with flavors of fresh carrots, almonds, pistachios and orange peel.
Arya's dining room seats up to 250 in Cupertino and 130 in Redwood City. They also offer catering and deliveries for corporate events.
For the staff members at Arya Global Cuisine, Arya is home and they want to welcome guests into their home with personal service and delicious cuisine.
About the company:
San Jose's Arya Restaurant is a Middle Eastern restaurant that features belly dancing, global cuisine, and delicious and exotic Persian and Italian food. With two locations in Redwood City and Silicon Valley/Cupertino, the restaurant is the result of Chef Mike Hashemi's love for Persian and Italian food, as well as his love for cooking and serving people with the best of both worlds. Arya's San Jose banquet rooms are available for every occasion as well as corporate catering and private dining. Arya is the premier Persian restaurant in Cupertino and Redwood City, California. They are committed to providing each and every guest with superior service and a pleasant dining experience. For more information, visit their website at http://aryarestaurant.com.