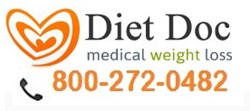 Diet Doc has become the nation's leader in medically supervised weight management and has helped thousands of their clients rapidly lose weight
Charleston, SC (PRWEB) November 09, 2013
Excess belly fat has long been known to contribute to a number of health problems and illnesses, but now a new study has found that the same protein that controls fat metabolism in the liver also resides in the memory center of the brain that controls memory, memory loss and learning. The presence of this protein suggests that there is a connection between fat, including belly fat, and memory loss.
Diet Doc is committed to helping their clients lose weight for any number of reasons, including improving their health and reducing the existence of memory loss. And, by combining hormone diet treatments with a healthy, low fat meal plan, patients are able to lose weight and improve their health, with some patients losing up to a pound of excess and embarrassing fat per day.
As reported on by Medical News Today, scientists with the Rush University Medical Center and the National Institutes of Health began their study to better understand how belly fat, and fat in other areas of the body, are connected to memory and memory loss. And, while further research is necessary, throughout their study researchers were able to find that the presence of this protein in both the liver, where belly fat is metabolized, and the memory center of the brain suggests that excess fat can contribute to memory loss.
In order to help protect their clients in South Carolina from memory loss and other weight-related diseases, Diet Doc offers exclusive hormone diet treatments designed to target belly fat and flush it out of the patient's body. Diet Doc took research from the earlier hormone diet plans and modernized it with advanced science and health understanding to bring their clients what is now the most effective hormone diet treatment available today. While other hormone programs continue to utilize old, outdated research, Diet Doc has become the nation's leader in medically supervised weight management and has helped thousands of their clients rapidly lose weight.
Hormone diet treatments contain the naturally powerful hormone, human chorionic gonadotropin, which inherently targets belly fat and fat in the thighs and underarms. And, while hormone is flushing this fat from the patient's body, it is also acting as a powerful appetite suppressant, providing patients with the ability to reevaluate their unhealthy eating habits and begin consuming low fat, low calorie meals.
Diet Doc understands that many of their clients in South Carolina, and across the rest of the United States, have difficulty sticking with their intentions to lose weight and their dieting attempts could be easily disrupted by the temptation posed by unhealthy, fatty foods. Including hormone diet treatments into their programs as a way to control the appetite not only allows patients to see fast and effective weight loss results, it also allows patients to stick with their diet and begin forming healthy habits to maintain their weight for the future.
Diet Doc Contact Information:
San Diego, CA
(800) 272-0482
Weight-loss(at)Dietdoc(dot)info
http://doctorsupervisedweightloss.com/testimonials.php
Twitter: DietDoc10
Facebook: DietDocNaturalHealth