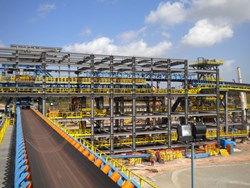 KDHI build the what is currently world's highest capacity belt conveyor at 20,000T/H
//www.belt-
http:conveyors.org (PRWEB) October 28, 2013 -- The Shanghai Keda Heavy Industry Group (KDHI) built what is currently the world's highest capacity belt conveyor. Engineered to convey 20,000 tons of iron ore per hour, composed of five belt conveyors, successful heavy-load debugging in 2013 and with 3.5 kilometres of conveying length, this colossus of a machine was purpose built for Vale's CLN 150 project based in Maranhão,Brazil.
KDHI "CLN 150" belt conveyors will be used in the construction of a railway terminal, the building of Pier IV at Ponta da Madeira, and the duplication of 125 km of the Carajás railroad, enabling the Brazilians to keep on the move. It will help expand the logistics capacity of Carajás to 150-million metric tons of iron-ore per annum. Not only supporting onshore work around car dumpers, stockyards, one stacker, two reclaimers and belt conveyors, the CLN 150 will be dealing with offshore work based around the south berth of Pier IV. The offshore component also includes a1.6 km access bridge, an environmental monitoring system and tugboat pier.
KDHI, China's largest belt conveyor manufacturer, fought off several internationally renowned industrialists prior to winning the contract in 2010. Winning this contract has consolidated KDHI's global positioning in the competitive international belt conveyor industry, as Li Ping, KDHI's Chairman is keen to explain.
"We were the sole Chinese company taking part in the tendering process, and Vale spent some time inspecting our projects in China prior to inviting us to take part in the bidding procedure."
"KDHI engineering & technology capabilities keep growing. If you want to improve your skill of swimming, the most important thing is you must find water to stay in. Thanks to China's economic boom in the last 20 years, KDHI's order book is always full. The CLN 150 project success brought us new contracts, including Vale's mining projects in Australia, Southeast Asia, and Mozambique. We have learned a lot from these businesses."
Li Ping went on to highlight that, "KDHI also have the advantage of our high production capacity operating from our 150,000 square metre manufacturing plant in Shanghai, only 40 km from the largest seaport in China, which was the reason for the fast delivery of the order. Last but not least, our production cost is much lower than our foreign counterparts."
For further details contact KDHI
http://www.Belt-Conveyors.org