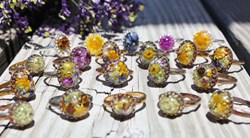 These rings are unique, beautiful and a piece of jewelry I hope recipients will both wear and treasure.
Boerne, Texas (PRWEB) September 10, 2013
Kendall County, Texas based Belukro Jewelry (http://www.belukro.com) is pleased to announce it will be part of GBK's Celebrity Gift lounge in Honor of the 2013 Primetime Emmys Nominees and Presenters. Belukro will have its Texas Hill Country Wildflowers Rings included in highly sought after The Artisan Group® swag bags, which will be presented to celebrities attending the Lounge. In addition, the company's beaded bracelets for men and women will be showcased at The Artisan Group display at the Lounge.
Watch a Belukro Jewelry video.
For this gifting, Belukro designer/owner Lori Marshall Ford was asked to create 100 individual rings. Each is meticulously handcrafted and features real Texas wildflowers that Marshall Ford picked and then painstakingly arranged and encased in resin to preserve their intense color and beauty. The resin flower cabochons are joined with a sterling silver bezel and ring band. The result is a fun and fabulous fashion ring that is a lovely reminder of summer all year round.
"I selected the Texas Hill Country Wildflowers Rings for the 2013 Primetime Emmys gifting because I wanted to present something memorable. These rings are unique, beautiful and a piece of jewelry I hope the recipients will both wear and treasure," remarked Marshall Ford.
For the gift lounge display piece, Marshall Ford created a selection of beaded bracelets that she wove on a traditional-type Native American loom using leather and glass seed beads. "I chose this style because I wanted to do something a little different than the average strung beaded bracelet. I also wanted to use a style that was colorful and eye-catching and that both men and women could wear."
Ten years ago, Marshall Ford turned her lifelong obsession with beads into a successful jewelry business, using as creative inspiration her love of nature and the outdoors. Today, her beaded and flower-based designs are avidly collected by handcrafted jewelry aficionados around the country.
In addition to the Primetime Emmys swag bag, Marshall Ford's jewelry has been included in swag bags for GBK's Luxury Gift Lounge for the 2013 Cannes Film Festival. It has been gifted to actress Renee Zellweger and television personality Brandi Glanville, and was part of a recent stylist gift bag initiative coordinated by The Artisan Group, which led to her jewelry being presented to wardrobe stylists for popular television shows "The Vampire Diaries," "Scandal" and "Parenthood," as well as the film "Hidden in the Woods," filmed on location in Texas.
To learn more about Belukro Jewelry, contact Lori Marshall Ford by email. Shop Belukro Jewelry at belukro.com. Follow Belukro Jewelry on Facebook (facebook.com/BelukroisAmazing) and Twitter (@belukro).
ABOUT BELUKRO BEADED JEWELRY
Following a ten year tour in the U.S. Air Force, Lori Marshall Ford decided to start her own handmade jewelry business, Belukro Beaded Jewelry (http://www.belukro.com). Lori has always had an obsession with beads, so she combined this obsession with a love of nature and the outdoors. The memories of the natural beauty of the places she had been and the people she has known throughout her time in the military and throughout her life serve as the inspiration to create her mini works of jewelry art. Lori has cultivated a successful business selling her beaded artwork and wildflower jewelry and continues to be inspired by the beauty of the Texas Hill Country, where she now lives with her family.