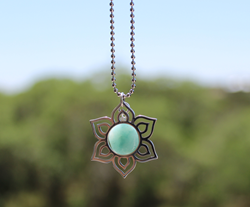 ...a charming, memorable piece of jewelry that the wearer can pair with almost any outfit.
Boerne, Texas (PRWEB) October 01, 2014
Belukro Jewelry's (http://www.belukro.com) handcrafted Lotus Flower Pendant Necklace proved the perfect accent for a chic Lolly Clothing Maxi Dress worn by Devious Maids star Paula Garces during New York Fashion Week. Anzo Anwar and Blend Showroom styled the look.
Belukro Jewelry has previously appeared on the CW Network's popular teen drama The Vampire Diaries (Episode 521) and will have a second appearance on Episode 605. Jewelry Affaire Magazine published the company's jewelry in its summer 2014 issue.
Belukro designer/owner Lori Marshall Ford says the Lotus Flower Pendant Necklace landed in the hands of Paula Garces and her stylists through a collaborative celebrity gift bag. Celebrities received the bag when attending GBK's New York Fashion Week Gift Lounge. The gifting was in partnership with California-based The Artisan Group®.
Of the Lotus Flower Pendant Necklace, Marshall Ford says, "I wanted to gift a charming, memorable piece of jewelry that the wearer can pair with almost any outfit. This feminine flower necklace achieves that. The longer chain length is on trend and the smaller sized pendant, which measures about 1-1/4 inches in diameter, allows it be worn alone or easily paired with another necklace."
The Lotus Flower pendant necklace retails for $44.99 and is available exclusively at Belukro.com. The 12mm Amazonite bead can be worn behind the lotus or in front of it. The pendant hangs on a 24 inch beaded chain with a beaded chain closure. It is long enough to slide over the head. Other gemstone choices include Kyanite, Labradorite or Moonstone.
Character Bonnie Bennett (actress Kat Graham) wore Belukro's Full Moon Necklace on Episode 521 ("Promised Land") of The Vampire Diaries. The 21 inch long necklace has a Goth, aged look, with antique brass stamping and a glowing blue Labradorite stone focal.
By the Light of the Moon is a 20 inch long necklace and features an oxidized copper wire wrapped blue flash moonstone. New character Ivy (actress Emily C. Chang) will wear it on Episode 605 of The Vampire Diaries.
Marshall Ford's jewelry included her jewelry in swag bags for GBK's Luxury Gift Lounge for the 2013 Primetime Emmys and the 2013 Cannes Film Festival. It has been gifted to actress Renee Zellweger and television personality Brandi Glanville.
Ten years ago, Marshall Ford turned her lifelong obsession with beads into a successful jewelry business, using as creative inspiration her love of nature and the outdoors. Today, her beaded and flower-based designs are avidly collected by handcrafted jewelry aficionados around the country.
To learn more about Belukro Jewelry, contact Lori Marshall Ford by email. Interested parties can shop Belukro Jewelry at http://www.belukro.com. Follow Belukro Jewelry on Facebook (http://www.facebook.com/BelukroisAmazing) and Twitter (@belukro).
ABOUT BELUKRO BEADED JEWELRY
Following a ten-year tour in the U.S. Air Force, Lori Marshall Ford decided to start her handmade jewelry business, Belukro Beaded Jewelry (http://www.belukro.com). Lori has always had an obsession with beads, which she has combined with her love of nature and the outdoors. Her inspiration comes from memories of the natural beauty of the places she had been and the people she has known throughout her time in the military and her life. Lori has cultivated a thriving business selling her beaded artwork and wildflower jewelry. The beauty of the Texas Hill Country, where she now lives with her family, inspires her every day.