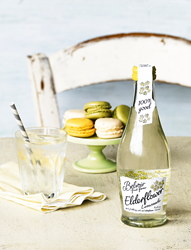 A Lovely Gift for Mother's Day!
Mamaroneck, NY (PRWEB) May 07, 2015
Made with love at the Belvoir Fruit Farms, with 100% natural ingredients, non-GMO, Gluten Free, Vegan, no preservatives, no sweeteners or artificial colors and presented in a lovely handcrafted bottle, this perfumed gift will delight every palate.
Belvoir Fruit Farms launched its first lemonade in the US in 2011 and has grown successfully ever since. This range of refreshing alternatives to the traditional soft drinks offers also multiple opportunities as cocktail mixers.
Belvoir is available in selected stores across the US. Contact us at Belvoir(at)bwrgroup(dot)com
Belvoir Fruit Farms is nested in the idyllic valley of Belvoir – Lincolnshire, UK – renowned for its castle estate where the family farm is located. It was just a fruit farm until Mary Manners, wife of founder Lord John Manners, started picking and infusing elderflowers. Pressed, the fruits grown on the farm became syrup, which mixed with the spring running through the estate, blossomed into the lovely lemonades. Over the years, the family-owned company has produced a wider range of Belvoir flavors, carrying the same infusing, pressing and cooking processes of the fresh flowers, fruits and spices.
Follow us on @belvoirusa, @belvoirusa
Note from the Editor: Brands Within Reach, LLC is the official and exclusive distributor of Belvoir in the US.
For additional information, please contact Alexandra Creteur, public relations at Alexandra(at)bwrgroup(dot)com.