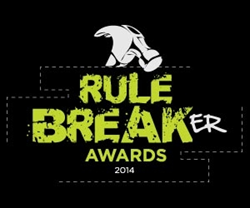 "All of our Rulebreakers have one thing in common: They're passionate about making a difference in business," said co-host Barry Moltz, author of How to Get Unstuck.
Buffalo, NY (PRWEB) June 04, 2014
VoIP Supply, North America's leading VoIP solutions provider, is announcing today that Ben Sayers, CEO and founder of VoIP Supply, has been named a RuleBreaker Award winner in the Retailers Over $5M in Sales category.
The RuleBreaker Awards honor business owners and entrepreneurs who break the rules and forge their own path instead focusing on traditional measurements such as revenue and growth.
"Our goal is to salute those who never shirk from obstacles, don't fear the unknown and persist despite the odds," said Mike Michalowicz, award co-host and author of The Pumpkin Plan.
Sayers is a serial entrepreneur who decided college wasn't for him and started an eCommerce company in 2002 to sell Voice over IP (VoIP) hardware, a niche market at the time with little to no options for consumers expressing a growing demand for, and needing help with, installing business VoIP phone systems.
VoIP Supply is also a Certified B Corporation (B Corp) that puts people ahead of profits, gives back to the community, and is held to a higher standard of accountability. Sayers ignores conventional wisdom and has decided to take the path less traveled by proving that a business can be both profitable and sustainable. "Our goal is to do well so that we can do good for others," said Sayers.
"All of our RuleBreakers have one thing in common: They're passionate about making a difference in business," said co-host Barry Moltz, author of How to Get Unstuck.
The unconventional RuleBreaker Awards program is sponsored by Nextiva, Skype and Constant Contact. Winners will be honored at an awards ceremony at the Tribeca Grand Hotel in New York City on June 10, 2014.
Award categories include Service Providers, Technology Providers, Retailers, and Manufacturers.
Winners were selected by a panel of judges including:

Ken Yancey, CEO of SCORE
JJ Ramberg, co-founder of Good Search and host of MSNBC's Your Business
Anita Campbell, founder, CEO and Publisher of Small Business Trends and BizSugar
Ramon Ray, Marketing and Technology Evangelist of Smallbiztechnology.com and Infusionsoft
"We're proud to honor entrepreneurs who have succeeded by doing it their way," said Rieva Lesonsky, CEO of GrowBiz Media and a co-host of the RuleBreaker Awards.
For more information about the award, visit http://www.rulebreakerawards.com.
For more information about Ben Sayers and VoIP Supply, visit http://www.voipsupply.com
About VoIP Supply
We are a place of uncovering, cultivating and developing leaders. A world class place to work with big goals, a clear vision, defined purpose and a dedicated team of passionate business professionals. We love what we do and do it better than any of our competition.
Since 2002, VoIP Supply has been the leading supplier of VoIP equipment and complete VoIP solutions in North America. We are known in the industry as responsive and knowledgeable VoIP product experts.
With everything you need for VoIP, VoIP Supply has grown rapidly throughout the years. VoIP Supply is a three-time Inc. 500/5000 honoree, listed by Business First as one of WNY's Most Admired Companies, as well as one of Western New York's Best Places to Work for many consecutive years, including 2012. VoIP Supply is also the first Certified B Corporation in Western New York.