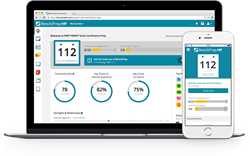 The BenchPrep HR Learning System is the most popular PHR/SPHR Prep bundle offered by HRCI and has been shown to increase passing rates on the exam 56% over the national average.
Chicago, IL (PRWEB) October 18, 2016
BenchPrep, the leading digital learning platform company, has released an updated version of their best-selling HR certification prep program. The BenchPrep HR Learning System™ is a comprehensive study tool for candidates for the Professional in Human Resources® (PHR®) and Senior Professional in Human Resources® (SPHR®) certifications offered by the HR Certification Institute® (HRCI®).
The Learning System update adds 60 videos, spanning all 6 functional areas covered on the PHR and SPHR exams. The videos were created by John Newton, SPHR, an HR professional who has been teaching certification prep for over 10 years as an instructor at DePaul University and Northern Illinois University. They provide content overviews of key concepts, review test-taking strategies, and explain commonly missed questions. With over 20 years of experience in Human Resources, John Newton is the Founder and President of John Newton and Associates, a Human Resources and Learning and Development Training company.
The program update also includes an expansion of BenchPrep's expert-led webinar series. BenchPrep has added four new industry experts to its fall 2016 webinar schedule, further increasing a candidate's opportunities to interact with leading HR professionals. The new webinars will be led by the following HR experts:
-- Larry Hobbs, MBA, SPHR, has been teaching HR courses at the university level as an instructor for over 20 years. He is the author over 50 published articles, and has worked in numerous senior HR roles in both the public and private sector. His webinar will discuss Performance Appraisals.
-- Barbara Flynn, MS, SPHR, is the president of People First, an HR consultancy based in Broward, FL. She has been in HR-related roles for over 30 years, and has taught PHR/SPHR prep courses for more than 10 years. Her webinar topic is Test-Taking Tips and Strategies.
-- Barbara Mitchell is co-author of The Big Book of HR and The Essential Workplace Conflict Handbook. She is the managing partner of The Mitchell Group, an HR consultancy, and previously held senior leadership positions with Marriott International and The Millennium Group. Her webinar topic is Staffing and Strategic Retention.
-- Cornelia Gamlem, SPHR, is co-author of "The Big Book of HR" and "The Essential Workplace Conflict Handbook." She is founder and president of The GEMS Group, Ltd, and has served on the national board of directors of the Society for Human Resources Management. Her webinar will review commonly missed questions and provide an open forum for questions.
Additionally, the course has been updated to include the most up-to-date information on applicable HR laws, more detailed answer explanations, and improved connections between instructional content and assessments.
The BenchPrep HR Learning System is the most popular PHR/SPHR Prep bundle offered by HRCI and has been shown to increase passing rates on the exam 56% over the national average. The Learning System provides all the content and features necessary to ace the PHR and SPHR exams, including:
-- 1600+ practice questions with answer explanations
-- 700+ interactive flashcards and game center
-- Instructional content for all six functional areas
-- Diagnostic assessment and 3 full-length practice exams
-- 15+ hours of recorded webinars
-- 60 instructional videos
-- Native apps for mobile & tablet devices (iOS & Android)
-- Bi-weekly live webinar series with an HR expert
-- Personalized study plan with daily goals
-- Detailed reports highlighting relative strengths in each HR content area
-- Discussion forum to collaborate with other candidates
-- Unlimited resets of exams and practice questions
-- Email/phone support
Learn more about the BenchPrep HR Learning System at https://benchprephr.com
About BenchPrep
BenchPrep is a turnkey solution for education and training companies to create and deliver personalized digital learning programs across multiple devices including web, tablet and mobile. More than 2 million learners have used BenchPrep. The HR Certification Institute is one of the many leading professional organizations that partners with BenchPrep, which also collaborates with McGraw-Hill Education, ACT, Inc., the Infusion Nurses Society, Academy of Nutritionists & Dietetics, The Sustainability Accounting Standards Board (SASB) and others to deliver digital certification and education programs.
For more information, visit https://benchprep.com