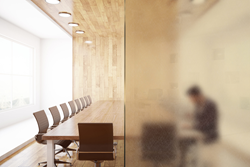 NEW YORK, NY (PRWEB) September 19, 2017
Inspired by the needs of today's office worker, Bendheim launches an industry first – decorative sound-control glass featuring a delicate brushed aesthetic. The new +2 Collection is named for its ability to provide combined acoustic and visual privacy. Architects can now create elegant, quiet spaces that promote comfort, wellbeing, and the ability to concentrate.
The +2 laminated safety glass enables A&D professionals to provide an alternative to the "fish bowl" effect – clear glass office fronts and conference rooms that make employees feel on display – by allowing architects to:

Create peaceful, quiet spaces – visually and acoustically
Provide a sense of openness as light passes through the translucent glass walls
Produce a stunning lantern effect at night as the +2 glass walls disperse light from within the spaces
The light-diffusing +2 glass maintains daylight advantages, while controlling unwanted views and noise. It offers outstanding acoustic performance with Sound Transmission Class (STC) 36 or greater. At STC 36, speech becomes unintelligible through the +2 glass. Compare this to the STC 33 of a standard 4.5" thick uninsulated interior stud wall, which cannot mask loud speech nor transmit light.
The appeal of +2 continues with its elegant, organic "brushed fiber" design, giving glass surfaces the appearance of freshly skated ice. +2 combines the obscuring brushed effect with a range of neutral color tints, including several in-demand bronzes and a smoked grey. The +2 acoustic interlayer can also be combined with hundreds of other colors or decorative glass varieties, including Bendheim's ultra-privacy Houdini™ micro-fluted glass.
The combination of translucent and mirrored +2 glass varieties extends the collection's aesthetic from partitions to wall surfaces. The glass is available in slim standard thicknesses ranging from approx. ¼" to ½", in sizes up to 60" by 120".
About Bendheim:
Bendheim is one of the world's foremost resources for specialty architectural glass. Founded in New York City in 1927, the fourth-generation, family-owned company offers a virtually unlimited range of in-stock and custom architectural glass varieties. Bendheim develops, fabricates, and distributes its products worldwide. The company maintains production facilities in New Jersey and an extensive showroom in New York City. For additional information, please visit Bendheim.com.