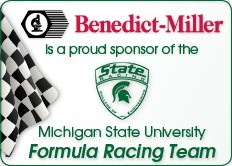 MSU has taken on a difficult challenge and Benedict-Miller is proud to offer our support.
Kenilworth, NJ (PRWEB) January 29, 2014
Leading 4130 and 4340 aircraft quality steel supplier Benedict-Miller is proudly sponsoring the MSU Formula Racing team. The company is providing the high performance steel that will be used in the manufacture of engine and mechanical parts for the school's Formula SAE design challenge.
Benedict-Miller's Business Development Manager Jeremiah Shaw Jr. expressed, "We're happy to support the next generation of engineers, a profession that is in great demand at present. We at Benedict Miller believe it is important to invest in the future by ensuring our young talent has the opportunity to grow these skills. The skills that the MSU racing team develops in this program are the skills that keep our manufacturing here in the U.S. at the forefront of innovation and will foster future growth in that competitive global marketplace. MSU has taken on a difficult challenge and Benedict-Miller is proud to offer our support."
The Formula SAE is a global competition sanctioned by the Society of Automotive Engineers that challenges select schools to fund, design, manufacture, and race a small, open-wheeled Formula-style racecar. Their prototype will be evaluated for its potential as a production item in seven different categories, four dynamic and three static, emphasizing the importance of the entire engineering process. The competition provides an avenue for aspiring world-class engineers to compete against the best of the best from other schools around the world.
About Benedict-Miller
A company committed to education, Benedict-Miller currently supports scholarships for full time employees at both Rutgers University and Centenary College in New Jersey. Founded in 1940, Benedict-Miller is a steel service center located in Kenilworth, New Jersey USA. Benedict-Miller has its own trucks for pick-up and delivery within New Jersey and serves clients on several continents. A proud American supplier and manufacturer with one of this country's most extensive inventories for aircraft quality 4130 and 4340 steel, Benedict-Miller uses flexible supply chain management systems that enhance its efficiency. Value add resources include high-definition plasma and saw cutting, shearing, grinding and annealing processes that make it an industry leader for value and service in the industry. From independently owned shops to Fortune 500 firms, Benedict-Miller's longstanding clients recognize the company for its high-quality steel and personalized customer service. Visit http://www.benedict-miller.com for more information or call toll-free 1-800-526-6372. Benedict-Miller's new company video may be viewed at http://www.benedict-miller.com/content.cfm/Company/Company-Video/category_id/103/page_id/143.