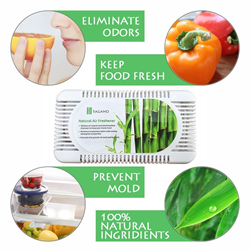 ALL NATURAL. Activated Charcoal is an all natural ingredient used for centuries across the world to remove odors and filter air.
Minneapolis, MN (PRWEB) December 20, 2016
Keeping food fresh and mold-free inside the refrigerator has always been a perennial problem that challenges housewives to try various odor-absorbing products and every life hack possible to keep from gagging when they open their fridge. Some of them even resort to spraying air fresheners, but most of them risk mixing harmful chemicals with food.
Lucky for them, they now have an all-natural option to keep the stink out of their refrigerator and protect their food from odor-causing bacteria. Sagano, a leading manufacturer of health and wellness products, has introduced a chemical-free alternative to eliminating refrigerator odor and absorbing harmful bacteria and mold that often cause food spoilage.
By utilizing the natural odor-absorbing power of activated charcoal, Sagano was able to come up with a long-lasting bacteria filter that is not only safe to be placed next to any food inside the refrigerator but also sun-renewable, meaning its bacteria-absorbing potency is restored using the power of the sun.
"We recognize the need to address food safety in deodorizing refrigerators. It's true that people's main concern is in solving the stinky smell, but most of them are not aware that the growing bacteria in their food is what actually causes the unpleasant odor. Now, killing bacteria that spoils food is tricky because we need to carefully choose products that are made from natural food-grade materials so as not to contaminate food with harmful chemicals. This is why we are proud to announce that Sagano now offers an all-natural alternative to air fresheners," said Nate Ginsburg, Sagano Chief Executive Officer.
With the Sagano Activated Charcoal Odor Absorber and Air Purifier, users can eliminate unpleasant refrigerator odors and at the same time keep harmful bacteria from their food the natural way. By using the power of the sun to naturally recharge the activated charcoal inside the product container, users can do away with chemical sprays and yet keep their refrigerator odor and bacteria-free.
--
About Sagano:
Sagano is a brand that specializes in health and wellness products that are exclusively manufactured using premium quality organic materials that have been designed and tested to meet consumers' evolving needs. Visit their product in Amazon to know more.