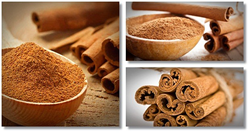 The "Health And Beauty Benefits Of Cinnamon" report penned by Rodney Hammond uncovers some reasons to love cinnamon.
Seattle, Wa (PRWEB) April 24, 2014
"Health And Beauty Benefits Of Cinnamon," a new report created by Rodney Hammond on the site Vkool.com, shows benefits of cinnamon on health and beauty, and detailed instructions on how to use it properly. In the first part of this report, people will discover some reasons to use cinnamon such as:

Cinnamon has anti-diabetic, anti-oxidant, anti-septic, anti-inflammatory, anti-flatulent, local anesthetic, and carminative properties.
It is a rich source of essential oils such as eugenol that gives pleasant, sweet aromatic fragrances.
It contains some health benefiting essential oils including ethyl cinnamate, cinnamaldehyde, linalool, methyl chavicol, and beta-caryophyllene.
This spice is packed with cinnamaldehyde that helps prevent platelet clogging inside the blood vessels.
It helps reduce the risk of having stroke, peripheral arterial disease, and coronary artery diseases.
Using this spice may increase gastro-intestinal enzyme secretions, and improve the digestive system.
Cinnamon is a good source of minerals involving potassium, zinc, calcium, iron, manganese, and magnesium.
In the second part of this article, Rodney Hammond reveals to readers some amazing health and beauty benefits of cinnamon such as:
Cinnamon is high in potassium, an important component of cell and body fluids, which may help control blood pressure and heart rate.
Cinnamon is rich in vitamin A, pantothenic acid, niacin, and pyridoxine.
This spice is an excellent source of flavonoid phenolic anti-oxidants including zea-xanthin, carotenes, cryptoxanthin, and lutein.
Cinnamon may treat muscle spasms, diarrhea, infections, vomiting, loss of appetite, the common cold, and erectile dysfunction.
Using this spice may reduce blood sugar in people with type 2 or type 1 diabetes.
Cinnamon may contribute to fighting against bacterial and fungal infections.
In the final part of the "Health And Beauty Benefits Of Cinnamon" report, people will get to know tips and advice on how to use cinnamon properly. The author recommends that excessive use of the cinnamon stick can cause inflammation of taste buds, mouth ulcers and gum swelling. The writer also indicates that uncooked cinnamon spice may increase the risk of choking or respiratory distress. In addition, using large quantities can dilate blood vessels, and cause difficulty breathing, depression, sleepiness, or even convulsions. Huy Pham from the site Vkool.com says, "Health And Beauty Benefits Of Cinnamon is a good report that will help readers understand more about cinnamon and its benefits on health and beauty."
If people want to get more detailed information from the "Health And Beauty Benefits Of Cinnamon" article, they should visit the website: http://vkool.com/benefits-of-cinnamon/.
___________________
About Rodney Hammond: Rodney Hammond is an editor of the website Vkool.com. In this website, Rodney Hammond provides people with a collection of articles on cinnamon benefits on health and beauty. People could send their feedbacks to Rodney Hammond on any digital product via email.