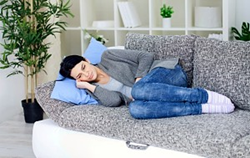 The "Wonderful Benefits Of Ginger For Healing Purposes" report penned by Thomas Reinhart provides people with simple yet unique tips on how to use ginger properly.
Seattle, Wa (PRWEB) March 15, 2014
Ginger is an herb that is used as a medicine and also as a spice. Ginger contains chemicals, which can reduce inflammation and nausea. Some researchers believe that these chemicals work primarily in the intestines and stomach, but they can also work in the nervous system and brain to control nausea. The "Wonderful Benefits Of Ginger For Healing Purposes" report, penned by Thomas Reinhart on the site HealthReviewCenter.com, shows the history of ginger, its therapeutic benefits, and some main precautions people should be aware of before taking the ginger.
At the beginning of the report, the author uncovers that ginger will help reduce the pain from muscle soreness, arthritis, menstrual pain, cough, upper respiratory tract infections, and bronchitis. Ginger is also sometimes used for relieving low back pain, chest pain, and stomach pain. In addition, the author recommends readers to deal with some side effects of consuming ginger such as diarrhea, stomach upset, heartburn, and mouth irritation. Next, this report indicates that ginger is used for fragrance in soaps and cosmetics, as a flavoring by the food and drink industry, and as a spice and flavoring in cooking. Besides, in the report, people will get to know tips to treat various types of stomach problems including morning sickness, motion sickness, gas, nausea and vomiting after surgery, loss of appetite, flatulence, and colic. Furthermore, people also discover simple and easy ways to get rid of symptoms of muscle pain, menstrual cramps, arthritis, and upper respiratory tract infections. Moreover, this report provides people with easy ginger recipes to prevent or treat diseases and conditions including:

Inflammation of the colon
Muscle pain caused by exercise
Nausea caused by chemotherapy
Asthma symptoms
Liver damage caused by acetaminophen
High blood pressure (hypertension)
Dysmenorrhea (painful menstruation)
Migraines
Thomas Reinhart from the site HealthReviewCenter.com says, "Wonderful Benefits Of Ginger For Healing Purposes is a helpful report that helps people understand more about health benefits of ginger. This report point outs that in some parts of the world, ginger juice can be applied to the skin to treat burns. Ginger contains a chemical, which is used as an ingredient in laxative, antacid, and anti-gas medications. Furthermore, the report also provides some simple tips to reduce the risk of developing colon cancer and ovarian cancer."
If people want to get more detailed information from the "Wonderful Benefits Of Ginger For Healing Purposes" report, they should visit the website: http://healthreviewcenter.com/health/benefits-of-ginger/.
__________________
About Thomas Reinhart: Thomas Reinhart is an editor of the website HealthReviewCenter.com. In this website, Thomas Reinhart provides people with a collection of articles on the health benefits of popular foods. People could send their feedbacks to Thomas Reinhart on any digital product via email.