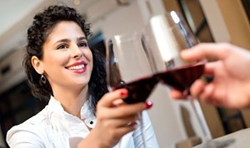 The "Health Benefits Of Red Wine" report penned by Jocelyn Laurel provides people with simple yet unique tips on how to drink red wine for better health.
Seattle, Wa (PRWEB) March 17, 2014
"Health Benefits Of Red Wine," a new report created by Jocelyn Laurel on the site HealthReviewCenter.com shows 15 health benefits of drinking wine. At the beginning of this article, people will discover 8 reasons to love red wine such as:

Lower the cholesterol level: according to studies from the Universidad Complutense de Madrid in Spain, high-fiber Tempranillo red grapes that are used to make red wines like Rioja can have a considerable effect on cholesterol levels.
Protect the heart: the antioxidants in red wine like polyphenols may help keep blood vessels flexible and lower the risk of unwanted blood clotting.
Control blood sugar: The skin of red grapes will be useful for diabetics because it can help them regulate their blood sugar levels.
Boost the brain: Resveratrol, a powerful antioxidant compound in red wine, may be the key to keep people's memory sharp.
Fight off a cold
Stop cancer
Get slim
Jazz up dinner
Next, the report indicates that red wine is good for people's heart. Red wine includes resveratrol, flavonoids and sapponins (antioxidant compounds) that help people protect their heart and arteries against the effects of saturated fat in their diet. Therefore, drinking 1 or 2 glasses of red wine per day can prevent cardiovascular diseases. Besides, in this part, people will get to know tips to drink red wine for slowing down the signs of aging, and preventing a number of degenerative illnesses such as type 2 diabetes. In addition, the writer encourages readers to drink 3 glasses of red wine each day that help protect them from many of the diseases of the elderly including osteoporosis, kidney or renal diseases, Alzheimer's disease, and Parkinson's disease. Furthermore, this report also take readers through the process of discovering the reason why red wine can prevent cancer, lower the risk of tooth decay, and reduce inflammation in the gums. Moreover, in the final part of the "Health Benefits Of Red Wine" report, people will discover a list of plants and drinks that are rich in resveratrol such as peanuts, bilberries, raspberries, blueberries, grapes, and red wine.
Jocelyn Laurel from the site HealthReviewCenter.com says, "Health Benefits Of Red Wine is a helpful report that helps people understand more about health benefits of red wine, and detailed instructions on how to use it properly."
If people want to get more detailed information from the "Health Benefits Of Red Wine" article, they should visit the website: http://healthreviewcenter.com/health/benefits-of-red-wine/
________________
About Jocelyn Laurel: Jocelyn Laurel is an editor of the website HealthReviewCenter.com. In this website, Jocelyn Laurel provides people with a collection of reports on the health benefits of drinking wine. People could send their feedbacks to Jocelyn Laurel on any digital product via email.