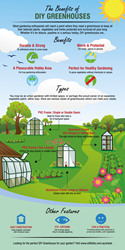 It is proven that businesses using infographics grow 12% more on average.
Melbourne, Australia (PRWEB) June 09, 2014
A greenhouse is a great option for gardening enthusiasts according to the latest infographic released by Melbourne SEO Services for their client Oldfields DIY Greenhouses.
In this useful infographic, Melbourne SEO Services present the benefits of their client Oldfields' DIY Greenhouses; a great solution to keep plants, vegetables and herbs protected and nurtured all year long. They are durable and strong to withstand winds and snow loads. They are warm and protected for herbs, spices and sprouts. They are an excellent and pleasurable area for leisure, pastime or a serious hobby and at the same time they are perfect for healthy gardening, to grow vegetables without sprays or chemicals.
Different types of DIY Greenhouses can cover most needs; from an urban gardener with limited space to the owner of an expansive vegetable patch. There are PVC frame (single or double doors) suitable for those with a bit of a backyard space, PVC frame with sun lounge for easy access or smaller areas, and aluminium frame with mini hinged or sliding door for those with limited space. A classic style DIY Greenhouse with lots of room is the aluminium frame (medium or large).
Oldfields' DIY Greenhouses are easy to construct as they entail snap-together assembly with minimum tools. When they are quickly filled with lovely plants, they are extremely eye-catching and appealing. At the same time, they are fund and practical; a pleasurable hobby that produces healthy vegetables.
This useful infographic was developed by Melbourne SEO Services specifically for their client. As David Jenyns, Director at Melbourne SEO Services, explains "If you want to get more traffic, increase your conversion rates and position yourself as an expert, an infographic is one of the best ways to go!" And he adds some enlightening statistics "It is proven that businesses using infographics grow 12% more on average."
An infographic that can actively help a business grow costs only $495 (plus GST where applicable) and what is very interesting is that, after it is launched and shared, its benefits for clients will continue to grow for a long time.
Additional information and an order form are available at http://www.melbourneseoservices.com/seo-services-australia/infographic-starter/.
The Oldfields infographic may be viewed here: http://visual.ly/benefits-diy-greenhouses.
About Melbourne SEO Services
MelbourneSEOServices.com is a full service online marketing consultancy, based in Australia, but with a worldwide client base. Known for being at the cutting edge of strategic online marketing practices, the company delivers a growing suite of services including: on-page and off-page search engine optimisation, article distribution, Google Places listing, press release services, web video production, one-on-one consulting and much more.
Melbourne SEO Services Director, David Jenyns, has, over several years, built a team of experts who are niche experts to support the business, and who share his ethos for ethical, professional internet marketing.