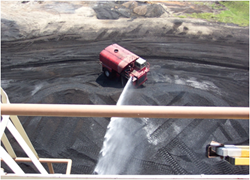 Our dust-mitigation solutions increase safety, boost production and provide greater peace of mind for bulk material handlers.
Aurora, IL (PRWEB) September 08, 2017
Benetech, Inc. is further refining its focus on dust mitigation that reduces accident and injury hazards caused by fugitive dust.
In addition to the combustion and respiration dangers of dust, bulk material handlers with an airborne dust problem often contend with reduced visibility, compromised walkways and hindered access to conveyors and other process equipment, all of which can lead to an accident or injury. Fugitive dust also can lead to mechanical wear and more-frequent clean-up around conveyor belts, raising the risk of a threat in those areas. Storage piles and material conveyance and transfers in particular often create airborne-dust challenges at bulk material–handling plants.
Benetech, Inc. provides new dust-mitigation systems that solve fugitive-dust problems according to a plant's design and implementation requirements. Beyond helping protect personnel, Benetech dust mitigation fortifies regulatory compliance and greater productivity.
Benetech's new solutions for material flow safety and a dust-free work environment include:
Dust Collection – applying a mechanized, engineered process to remove fine airborne dust particles from the material-handling system
Dust Containment – restricting and reducing fugitive dust with engineered transfer chute technology that draws less air into the transfer point; seals leaks where dust can escape; and controls the material from the head box to the tail pulley instead of letting it 'free fall' through the transfer system
Dust Suppression – applying a solution to the airborne dust through a mechanized process that decreases the surface tension of the water in the solution to better capture dust particles and return them to the main bulk material flow
Benetech dust mitigation also features key components such as inspection doors for easy access to hidden areas; belt cleaners for preventing carryback and spillage; belt support and containment for restricting fugitive dust; GreenTarp™ dust control for inactive piles and ground covers; and washdown systems for effective, effortless cleaning.
The company's specialists evaluate existing dust-mitigation systems, troubleshoot for any defects and advise plant operators on how to correct them as well.
"Our dust-mitigation solutions increase safety, boost production and provide greater peace of mind for bulk material handlers," said Benetech Vice President Paul Moran. "We are fully invested in keeping their plants more secure and making them more efficient. Our main goals for each Benetech customer are safe material flow and a dust-free work environment."
Benetech provides complete, performance-based solutions for dust mitigation and bulk material–handling systems. Its products, services and technologies reduce dust, prevent spillage, improve material flow and reinforce compliance. A partner in planning, engineering and operating dust-control and material-handling systems, Benetech helps companies assess challenges, establish priorities and achieve the results they require. For more information, please call (630) 844-1300 or visit http://www.benetechglobal.com.