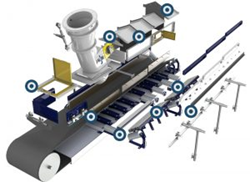 Our conveyor skirtboard system helps bulk material handlers make their operations more flexible, efficient and profitable by letting them continue production according to their current budget, schedule and requirements
Aurora, IL (PRWEB) April 25, 2017
Benetech, Inc. has addressed the great need in the bulk material–handling industry for production corrections and solutions that do not require installing a complete system.
Benetech's MaxZone® conveyor skirtboard system accommodates situations in which an existing component is flawed, aging or failing but budget and time constraints exclude a full system replacement. Its modular design allows easy change-out of components for all applications without special permits or lengthy shutdowns. The system also requires no welding.
The conveyor skirtboard system further applies leading dust- and spillage-control technologies as standard features to help keep an operation clean, safe and productive. It is available in standard sizes and lengths based on the conveyor belt width and speed as well.
MaxZone conveyor skirting and dust control components include:
MaxZone XN Wearliner – an externally adjusted internal wearliner that seals the system and extends the life and production of existing chute work
Warrior Impact Bed – a rigid frame with soft rubber bars for conveyor-belt support and stability during loading
Sealing System – easy-to-install clamps and seals for the sides of the load zone
Simple Slide Idler – roller frames that slide into place without the need to remove adjacent idlers
Easy-Change Dust Curtain – a dust curtain that interrupts airflow and allows dust to settle on the conveyor belt
Peaked Hood Design – a sloped design for less settling of dust
All-Access Inspection Doors – convenient entry to key areas of the conveyor belt skirting system
Tailseal – a box with skirting and strip rubber that create a tight seal at the rear of the chute work
"Our conveyor skirtboard system helps bulk material handlers make their operations more flexible, efficient and profitable by letting them continue production according to their current budget, schedule and requirements," said Benetech Technology Manager Kevin Jasin. "With easy system maintenance, replacement and adjustment, they can maintain steady, swift production and serve their customers at a high level."
Benetech provides complete, performance-based solutions for dust mitigation and bulk material–handling systems. Its products, services and technologies reduce dust, prevent spillage, improve material flow and reinforce compliance. A partner in planning, engineering and operating dust control and material handling, Benetech helps companies assess challenges, establish priorities and achieve the results they require. For more information, please call (630) 844-1300 or visit http://www.benetechglobal.com.