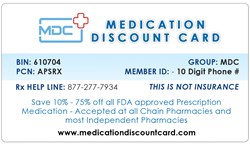 Houston, TX (PRWEB) January 22, 2014
Sometimes called the silent killer, high blood pressure is a serious health issue that affects roughly one-third of American adults. High blood pressure can adversely affect vision, circulation, balance, and even mobility. It can also be a harbinger of more serious issues like a heart attack or stroke. Modern medications can help keep high blood pressure in check, in tandem with diet and exercise. But what about patients who can't afford medication? MedicationDiscountCard.com offers Benicar discount cards, as well as discounts on other life-saving drugs.
The number of Americans with health insurance is finally rising, thanks to the Affordable Care Act (also called "Obamacare"). While that is great news, having medical insurance does not always translate to being able to afford all needed prescriptions. MedicationDiscountCard.com offers savings of 10-75% off many prescribed and OTC medications. Benicar coupons and other money-saving offers help patients to afford the medications that will help them maintain a higher quality of life. MedicationDiscountCard.com has already helped tens of thousands of patients get their prescription medications at prices they can afford. The card doesn't just save money—it saves lives.
To gain access to discounts of 10-75% on Benicar and thousands of other FDA-approved prescription medications, head to MedicationDiscountCard.com. The company offers their savings card to those without insurance, and also to those whose insurance does not cover all necessary medications. There is no medical questionnaire, and no paperwork is required. Cards are free, so no credit card is needed. Patients only need to click to print the card on a home printer, or they can request for cards to be sent via postal mail free of charge—whichever is more convenient. Once in hand, prescription discount cards are accepted at thousands of chain and local pharmacies all over America.