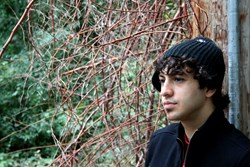 Everyone that was involved gave this video everything they had. - Benjamin Dara
Salt Lake City, UT (PRWEB) January 13, 2014
Benjamin Dara's music video for "At Peace" has been officially launched. Fans across the globe are rapidly viewing and sharing the much anticipated music video. Perhaps one of the greatest tributes to Dara as a musician is his ability to connect with people from all walks of life. This is made evident by the amazing support he has received from fellow musicians, teachers, healers, and all other makers of peace.
As a whole, the video takes the viewer through a spiritual journey of their own. The end product highlights the natural beauty of Utah's landscape with jeux d'eau position shots of Benjamin and his band's favorite parts of Salt Lake City; perhaps to remind us all that no matter where you are in life, you can be a symbol of peace.
In a recent interview, Dara explains what it's like to have such a passionate creation finally manifest. "Being able to share my music with a video is truly something I have always wanted. This was no easy task however. Everyone that was involved gave this video everything they had. I could not have done this without the support and love I am blessed with." - Benjamin Dara
Dara goes on to explain that the video took over six (6) months to fully produce. This should come as no surprise to those who have already familiarized themselves with his work. In fact, the four (4) minute music video has been cut from over one hundred (100) hours of recorded footage. The video was filmed and produced by Eric Ferguson. Countless hours of pre- and post-production were spent; all for the purpose of spreading a message of peace.
"This was an amazing project to work on. We all resourced as a team to really show people what an independent artist can do when there is some conviction behind the music. This is a great thing for the spiritual crowd, the peaceful crowd, and world music in general." - Eric Ferguson, Producer
Last year, Dara was highlighted by The Salt Lake Tribune, Utah's largest newspaper for his debut album "Single Flame." This music video is another step in the right direction for this young artists rising career. See more of Dara at: http://www.benjamindara.com/.