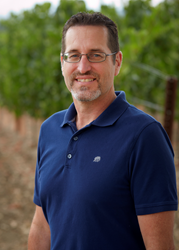 I've always enjoyed Benovia wines and I'm thrilled to be a part of this exciting organization.
Santa Rosa, California (PRWEB) August 13, 2014
Benovia Winery is pleased to announce the addition of Jeff Shaeffer to the Benovia team as the Russian River Valley winery's new Direct To Consumer Sales Manager.
In the position, Jeff will have a hand in all aspects of Benovia's direct-to-consumer business. He will oversee the winery's online sales and Tasting Room business, organize special sales events, and develop marketing strategies to help more wine lovers discover Benovia's award-winning Pinot Noir, Chardonnay and Zinfandel wines.
"We're excited to have Jeff on the team," said Benovia's Co-Owner, Winemaker and General Manager Mike Sullivan. "He brings a lot of direct fine wine sales experience to Benovia and has the entrepreneurial spirit that will really help move our DTC business forward."
A California native, Jeff grew up alongside the cotton, alfalfa and wheat fields of his family's farm in the central San Joaquin Valley.
After he graduated from Dos Palos High School, Jeff attended Fresno State University where he earned a BA in Liberal Studies.
Jeff's first job in the wine industry was in Australia, where he worked for six months in 1989 as a production assistant for an upstart winery in the Barossa Valley wine region near Adelaide.
Upon returning to the States, Jeff became an import manager for a multi-national produce distributor. While traveling extensively for his job, his love of fine wines was reignited.
Jeff combined his passion for business and wine to start his own imported wine business in 2006, working hard to introduce a number of Australian and Argentina wines from small producers to the US market.
That same year, Jeff also joined Siduri Wines and Novy Family Winery as a Production Assistant, and moved his way up over the years to Retails Sales Associate, Tasting Room Manager, and most recently, Siduri's Sales and Hospitality Manager – all while continuing to run his wine import business.
During his tenure at Siduri, Jeff established a wine club, directed the winery's hospitality program and staff, and managed some of Siduri's wholesale markets.
Today Jeff is hard at work with a new sales team at Benovia that includes Bob Cooley, VP of Sales & Marketing; Roger Carrillo, Director of Hospitality, and Oniqueh Giles, Brand Ambassador.
"I've always enjoyed Benovia wines and I'm thrilled to be a part of this exciting organization," Jeff said. "I love that it's a small, family winery with a staff of passionate people who care about the quality of the wines."
Jeff lives with his wife Sharilyn in Windsor and enjoys traveling, staying fit, sports, and has just recently taken up golf. The Shaeffers are enjoying a fairly new addition to the family – their first son, six-month-old Everett Scott.
About Benovia
Founded by husband and wife team Joe Anderson and Mary Dewane, and winemaker co-owner Mike Sullivan, Benovia Winery farms more than 72 acres of Pinot Noir, Chardonnay, and Zinfandel from estate vineyards in the Russian River Valley and Sonoma County. The name of the winery is derived from Joe and Mary's fathers' names, Novian Anderson and Ben Dewane. Established in 2005, Benovia's mission is to create iconic and thought-provoking "Grand Cru quality" Pinot Noir, Chardonnay and Zinfandel handcrafted wines. Benovia wines are sold through an allocation system direct to customers, as well as distributed to select restaurants nationwide. Total annual production is approximately 5,000 cases. Winery tastings and tours are available daily by appointment. Benovia Winery, 3339 Hartman Road, Santa Rosa, CA 95401. (707) 526-4441.http://www.BenoviaWinery.com