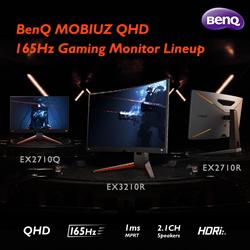 Why would you want to simply look at the stunning landscapes in your favorite AAA game when you can feel like you're there? That is the vision behind these new QHD 165Hz MOBIUZ gaming monitors.
COSTA MESA, Calif. (PRWEB) September 20, 2021
BenQ, a global leader in display technology, debuted a trio of MOBIUZ QHD 165Hz gaming monitors today. MOBIUZ puts gamers in the center of the action with performance specs, enhanced visuals and incredible sound. All three models prioritize immersion with proprietary advantages like HDRi intelligent optimization, 2.1 channel audio and pioneering eye care. EX2710Q, a 27-inch gaming monitor, uses the ultra-broad P3 color space to showcase incredible graphics, while EX2710R and EX3210R feature extreme 1000R curvature. All are geared for gaming thrills.
Fast-paced games like APEX Legends and Call of Duty: Warzone demand split-second player reactions and a low latency monitor. Expect buttery smooth graphics from EX2710Q HDR gaming monitor, backed by a 165Hz high refresh rate, 1ms MPRT (Motion Picture Response Time), and FreeSync Premium.
The visual wonder of today's most popular games is showcased by the 1440p gaming monitor's IPS panel. Detailed RPG landscapes look vivid and more realistic with DisplayHDR 400 support. HDRi is a literal game changer with auto-refining color, detail and contrast performance, and Light Tuner offers 20 brightness performance options, while Black Equalizer reveals details in the shadows. Now when you move from indoors to outdoors in Battlefield you won't lose sight of the action.
Additionally, impressive 95% P3 color space coverage makes the action more awesome to watch. Plus, thanks to AMD FreeSync Premium Pro, you'll enjoy tear- and stutter-free, smooth content display and seamless video performance.
"Immersion is everything," says Jason Lee, LCD line of business manager. "Why would you want to simply look at the stunning landscapes in your favorite AAA game when you can feel like you're there? That is the vision behind these new QHD 165Hz MOBIUZ gaming monitors."
That vision is realized in EX2710R 27-inch and EX3210R 32-inch curved gaming monitors. Their extreme 1000R curvature matches the human eye, putting all content within your field of view and at an equal distance away. Visual micro-adjustments are minimized, relieving strain, headaches and distraction. Not only will you be more comfortable, the images wrapping your FOV are wildly immersive. An ergonomic stand and convenient remote control round out these two new curved VA monitors.
Game developers invest millions in musical scores, voice actors and spot-on sound effects. To richly convey sonic complexities, BenQ equipped all three QHD 165Hz monitors with 2.1 channel audio by treVolo. This includes two newly upgraded 2-watt speakers, a 5-watt subwoofer and selectable modes powered by a digital signal processor to customize gamers' experiences.
Neck aches and eye strain can be worthy opponents. All three models have light-touch height/tilt/swivel adjustable stands and are VESA wall mountable. BenQ, a pioneer in eye care technology, integrated the latest tech to promote eye safety and comfort during long sessions.
All three 2K 165Hz 1ms monitors are available for pre-order now on BenQ.com. Visit for pricing, complete specs, and to learn more.
Key Features
EX2710Q

27" 2K 165Hz 1ms IPS monitor
Hyper-immersive images with ultra-broad 95% P3 color space and HDRi intelligent optimization
2.1 channel performance treVolo audio with selectable modes
EX2710R/EX3210R

27" and 32" 2K 165Hz 1ms monitors
1000R extreme curvature for immersive audio and video performance
HDRi intelligently optimized images and 2.1 channel superior treVolo audio
About BenQ America Corp.
The world-leading human technology and solutions provider, BenQ aims to elevate and enrich every aspect of consumers' lives by designing products with a purpose. BenQ sells and markets innovative technology products, consumer electronics, computing, and communications devices. Founded on the corporate vision of "Bringing Enjoyment N' Quality to Life," BenQ focuses on the aspects that matter to most people today – lifestyle, business, healthcare, and education - with the hope of providing people with the means to live better, increase efficiency, and enhance learning by providing people-driven products and embedded technologies spanning digital projectors, monitors, interactive large-format displays, audio products, cloud consumer products, mobile communications, and lifestyle lighting. Because it matters. For more information about products and to purchase, visit BenQ.com.