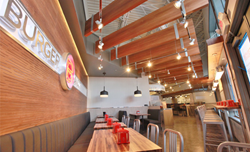 As we transformed a closed down Quiznos into the first Burger Bandit, we found that the Burger Bandit is not just offering a delicious, unique menu. Its design and construction are like no other.
Lynbrook, NY (PRWEB) February 27, 2015
The new Lynbrook Burger Bandit restaurant is making a name for itself quickly. Beyond its tantalizing menu and a buzz that co-owner and well known Kim Kardashian friend Jonathan Cheban have immediately generated for the restaurant's flagship location, the restaurant itself is unlike any other burger eatery on Long Island. That is because Cheban's behind-the-scenes team included talented designers and award- winning commercial contractor Ben's General Contracting.
"We were tasked with bringing Mr. Cheban's long-time vision of opening a unique fast-casual family-friendly burger restaurant to life. As we transformed a closed down Quiznos into the first Burger Bandit, we found that the Burger Bandit is not just offering a delicious, unique menu. Patrons of the restaurant will enjoy the experience of eating in the restaurant itself. Its design and construction are like no other," says Ben Jackson.
In a recent interview, Ben Jackson and brother Tony Jackson shared some of the Burger Bandit's notable features. The build out included construction of eye catching architectural and design elements that include an open ceiling design with exposed spiral ductwork, a custom wood suspended ceiling, suspended custom wood beams in the dining area, and stainless steel hardware and soffits.
To create interesting focal points, a custom colored art glass wall border with stainless trim was constructed, as well as a textured wood panel wall with an up lit Burger Bandit logo. Hi-efficiency LED track lighting was installed to illuminate the restaurant's seating niches and surrounding walls and counters. Simulated wood tile wainscot with stainless steel chair rails in the dining area were also integrated into the restaurant's construction to create a contrast of both industrial and natural textures.
Following the Lynbrook Burger Bandit's Grand Opening held on February, 22, 2015, Ben Jackson commented, "We wish everyone at the Burger Bandit success and we will be there for them as they grow their business. I want to extend a special thanks to my staff. They demonstrated an outstanding level of commitment and focus through all phases of planning and construction."
Ben's General Contracting Corp. has received many accolades since it opened its doors over thirty years ago. This February Ben's was named the NARI 2015 Northeast Regional Contractor Of The Year (CotY) Winner for Commercial Interiors after having gained notoriety as the Silver Winner in the Commercial Interiors category for the NARI NYC/LI Chapter in late 2014. The Long Island contractor's extensive commercial resume includes building national franchises such as IHOP restaurants and completing dozens of stores for commercial businesses such as PLS Check Cashers, a nationally recognized financial service company.
For more information about restaurant contracting and commercial contracting services provided by Ben's General Contracting, please call (516) 623-2945.
About Ben's General Contracting
Ben's General Contracting Corp. is a licensed, insured, bonded commercial and residential contractor serving Long Island, New York City and the Northeast Region for over 30 years. With extensive experience in the commercial sector, the company's credits include commercial design-build, commercial general contracting, and commercial construction management services for well-known brands and franchises. In addition to its award-winning work in the commercial sector, Ben's has garnered recognition in the residential sector by being named as the Best of Houzz 2015 for Customer Service. It has also been a featured contractor on NBC's popular TV show George To The Rescue multiple times.