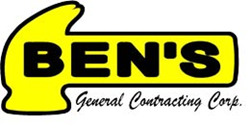 We continue to be humbled and energized by gaining this level of recognition and trust within the community.
Freeport, NY (PRWEB) April 22, 2015
The National Association of the Remodeling Industry (NARI) has named Ben Jackson of Ben's General Contracting the National award winner for his work chairing the Government Affairs Committee, which resulted in the Nassau Home Industry Board being reinstated. Ben's was previously named Northeast Regional CotY winner in the Commercial Interiors category, and it has also received recent awards for its residential work.
For over thirty years, Ben's has served the Long Island, NYC and Northeast Region. With extensive experience in both the commercial and residential sectors, the company's credits include commercial design-build, commercial general contracting, and commercial construction management services with well-known commercial brands as well as new home construction and renovations for New York homeowners.
"We continue to be humbled and energized by gaining this level of recognition and trust within the community," says owner Ben Jackson. "It motivates us to be better and to do the best work we can, not just for customers, but for the community."
Mr. Jackson says that it is the unparalleled commitment of his staff and their attention to detail and quality through all phases of construction that has spurred the company's growth. As recent as November of 2014, Ben's was voted the 2014 Contractor of The Year by the National Association of the Remodeling Industry (NARI NYC/LI Chapter), gaining notoriety as the Silver Winner for excellence in Commercial Interior work. It was then donned the COTY 2015 Regional award for Commercial Interiors. Ben's is now honored to also receive the National award for his work with Government Affairs Committee.
Contractors from seven regions around the country vie for CotY Awards each year. Judging is based on problem solving, functionality, aesthetics, craftsmanship, innovation, degree of difficulty by an impartial panel of industry experts. NARI named 160 Regional CotY TM Winners from the 2015 competition, with 33 team members. Regional CotY Winners will now advance as finalists at the national level.
Regional winners were honored and National winners were announced at NARI's Evening of Excellence reception held on Friday, April 17 at the Hyatt Regency Pier Sixty Six in Ft. Lauderdale, FL. Each year NARI presents CotY awards to members who have demonstrated outstanding work through their remodeling projects. The entries of this year's competition totaled more than $84.5 million worth of remodeling projects.
NARI is a professional association whose members voluntarily subscribe to a strict code of ethics. To be considered for a CotY Award, a company must be a NARI member in good standing.
For more information about Ben's, please call (516) 623-2945.
About Ben's General Contracting Corporation
Ben's (http://www.bgccorp.com) is a licensed, insured, bonded commercial and residential contractor serving Long Island, New York City and the Northeast Region. For over 30 years Ben's has taken great pride in its "Triple C Service" – Constant Client Communication and its "on time" – "be there when we say we'll be there" service delivery ethics. Ben's has been featured on George To The Rescue and is the recipient of numerous industry awards. The company and its staff remain in active in the community, encouraging ethical conduct, professionalism and community service in the industry.