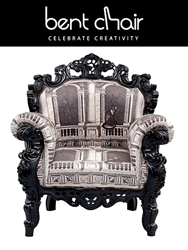 We are extremely excited to take our products to every shopper around the globe. Our response in India has been tremendous and we hope to replicate the success globally
New Delhi (PRWEB) June 21, 2017
Bent Chair, a young and rapidly growing Indian furniture and accessories e-tailer has formally announced its international expansion plans after testing the waters over the last few months. Bent Chair has exhibited tremendous growth and potential in a short span of 10 months, gaining a strong customer base in its home market. Content with its domestic performance, Bent Chair has landed on foreign shores makings its unique and extremely creative designs accessible to shoppers around the globe.
"We are extremely excited to take our products to every shopper around the globe. Our response in India has been tremendous and we hope to replicate the success globally", said Mr. Neeraj Jain, co-founder, Bent Chair.
The global furniture market is expected to grow at a modest 4% CAGR till 2020 (Source: Technavio Consulting), driven primarily by increase in disposable income and home improvement trends. Bent Chair is well poised to exploit these favorable market trends given its robust presence in India, e-commerce experience, and strong global distribution abilities.
Serial entrepreneurs and father-daughter duo Natasha Jain and Neeraj Jain founded Bent Chair in August 2016, with the aim of bringing affordable luxury, engineering, high design and technology to the furniture and accessories market. Natasha being an Industrial Engineer from Stanford University and Mr. Neeraj Jain being a 3-time Red Dot Design Award Winner bring together the technology, e-commerce and design excellence to Bent Chair. Since its launch, Bent Chair has established itself as one of the fastest evolving online marketplaces and is one of the first Indian startups to create an end to end supply chain from designing to manufacturing and selling.
Bent Chair has its roots in engineering and technology and follows a very methodological approach towards its products. All of the magic takes place at its 48,000 sq. ft. state of the art manufacturing facility in Ambala that houses the latest woodworking machinery as well as a huge space for assembly, storage, and testing of finished products. In addition to the primary manufacturing unit, 4 facilities have been set up for polishing, carving, weaving and painting of Bent Chair products. The production is carried out through a co-operative of skilled artisans.
Bent Chair has a unique business model where it follows an omnichannel approach which includes selling online, creating a marketplace, selling offline through pop ups, through a Bent Chair studio and also entering into a franchise model. The Bent Chair website is not just promoting its own brand but also curating and creating a marketplace for other brands
All products follow a concept, prototype, production cycle. The design team's final sketches are turned into 3D renderings by the Computer Aided Design (CAD) team, following which these renderings are made into polyurethane based prototypes. Any design flaws are corrected at this stage, and the design with intricate detailing is sent for production. This ensures all products meet the highest quality and design standards.
Natasha Jain also announced their future on ground expansion strategy. "We hope to continue to grow our on ground presence in India and will be opening close to 20 stores through a franchisee model."
Bent Chair is thrilled in achieving this milestone, and the team hopes to continue in spreading its mission of making affordable luxury accessible.
About Bent Chair
Bent Chair, is a lifestyle brand that was born out of creative and unconventional young individuals who wanted to create a one-stop shop for all furnishing needs. The name 'Bent Chair' refers to something that has been altered from its original form to a rather unusual figure, and is synonymous with panache and unending creativity.
Our passion and persistence for curating and crafting the finest in furniture and home décor products makes us the part of the home building journey of million consumers. We leave no stone unturned in delighting our consumers with a wide range of products be it elegant furniture or decor accessories everything at your doorstep at impeccable prices.
Our vision is to bring to India affordable luxury with a universal appeal. At the same time focus on leveraging our in-depth expertise, best of technologies integrated with traditional Indian artisans to build a contemporary urban home aesthetic space.
Indulgence in each and every minute detail is an inevitable part of the brand's journey. Hundreds of such small steps ensure in achieving the mission of setting global benchmarks for distinctive products, bringing unmatched customer experience and trustworthy best practices.
Mr. Neeraj Jain - A seasoned industrialist, Mr. Jain has over 35 years of experience in high precision manufacturing and design of medical microscopes and imaging devices. He is one of the only Indians to be awarded the Red-Dot design award three times for his impeccable and extremely functional designs. Over the past few years, Neeraj has been involved with the development of several cutting edge houses, factories and restaurants. His passion for excellence and noticing the lack of high quality, well engineered and well designed products inspired him to create Bent Chair.
Ms. Natasha Jain – A Masters Degree Holder in Management Science Engineering from Stanford University, is the co-founder of Bent Chair. She also holds a Bachelors in Industrial Engineering from Georgia Institute of Technology. Being an entrepreneur from the start, Natasha has commandeered operations and supply chain management of four manufacturing plants that has shaped her capabilities.
While Natasha has successfully set up supply chain systems for her Family business, she also formed Fresh Mentors during her time at Stanford. Freshmentors was founded in 2011 with the purpose to provide online mentoring to college applicants. After moving back to India from the Silicon Valley, Natasha formed Ruplee in 2014 an avant-garde payment app designed to ease the way we pay. Her keen eye for technology and aesthetics is what drives her to curate some of the trendiest accessories from across the globe for Bent Chair.