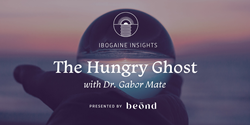 Through its upcoming series, Beōnd is seeking to demystify the conversation around ibogaine.
SAN FRANCISCO (PRWEB) March 04, 2022
Today, Beōnd announced it will be hosting Ibogaine Insights, an interactive digital discussion series to help practitioners and other interested parties understand the benefits of ibogaine therapy for the treatment of addiction and trauma.
The slate of more than a dozen events will feature a keynote panel on March 24, led by renowned addiction expert Dr. Gabor Maté entitled, "The Hungry Ghost: A Biopsychosocial Perspective on Addiction: From Heroin to Workaholism." The discussion will cover insights on the promise of psychedelic-assisted therapy using ibogaine to help interrupt addiction and heal the trauma that lies at the core of addiction.
Gabor Maté is a retired physician who, after 20 years of family practice and palliative care experience, worked for over a decade in Vancouver's Downtown East Side with patients challenged by drug addiction and mental illness. The bestselling author of four books published in over twenty-five languages, including the award-winning In the Realm of Hungry Ghosts: Close Encounters with Addiction, Maté is an internationally renowned speaker highly sought after for his expertise on addiction, trauma, childhood development, and the relationship of stress and illness. For his groundbreaking medical work andwriting, he has been awarded the Order of Canada, his country's highest civilian distinction, and the Civic Merit Award from his hometown, Vancouver.
Events in Beōnd's Ibogaine Insights discussion series will be free, hosted on Zoom, and held biweekly, beginning in March.
Additional panelists include medical professionals and scientific experts such as:

Jeffrey Kamlet, M.D., Beōnd's Chief Medical Officer, Board Certified Addiction Medication specialist, and widely recognized as the world's leading expert on ibogaine safety
Christine Clark, M.D., Board-certified psychiatrist and expert on ibogaine experiences
Joseph Barsuglia, Ph.D., clinical and research psychologist and expert on ibogaine treatment who presented the first and largest observational research on 5-MeO-DMT and ibogaine, novel brain imaging data, and developed guidelines for the administration of 5-MeO-DMT
Lynette Averill, Ph.D., ​​leading expert in the psychoneurobiology of chronic stress pathology, Associate Professor at Baylor College of Medicine, Clinical Research Psychologist at the Houston VA Medical Center, and faculty at Yale School of Medicine and the National Center for PTSD
Thomas Kingsley Brown, Ph.D., ibogaine expert who published, in 2017, the first observational study of ibogaine treatment for opioid addiction in collaboration with the Multidisciplinary Association for Psychedelic Studies (MAPS)
Andrew Tatarsky, Ph.D., internationally recognized leader in the treatment of problematic substance use who developed Integrative Harm Reduction Psychotherapy (IHRP) as a treatment for substance use issues, and founder and director of the Center for Optimal Living, a treatment and professional training center in New York City
Felipe Malacara, M.D., the Chief Clinical Director of Beōnd's Mexico ibogaine treatment facilities and expert in ibogaine treatment protocols
Prospective attendees can RSVP for Maté's panel and learn more about additional programming here.
Ibogaine is a natural psychedelic derived from the West African iboga root. While ibogaine has been hailed as one of the most promising treatments for opioid dependency due to its ability to interrupt withdrawals and heal trauma, it remains a Schedule I substance in the U.S. and has attracted controversy amid widely publicized incidents of adverse reactions. Over the course of Beōnd's seminar series, experts from across the field will cover the latest scientific insights into ibogaine, its safety profile and related protocols for use, and its promise as a breakthrough therapy for patients who've struggled to find effective treatment for substance use or posttraumatic stress disorder (PTSD).
The growing visibility and interest in ibogaine as a treatment for substance use disorder comes as drug overdose deaths continue to surge to new highs in the U.S. Weekly drug overdoses were 45 percent higher in 2020 than in the previous year, reaching a staggering 100,000 fatalities, according to the U.S. Centers for Disease Control and Prevention. Recently released data from 2021 suggests these deaths only continued to rise over the first half of last year. The vast majority of these incidents are related to opioid use.
A growing wealth of research shows that ibogaine could be a powerful tool in the fight against drug addiction and overdose. A 2021 systematic literature review of ibogaine studies concluded that the psychedelic substance "is an effective therapeutic intervention within the context of [substance use disorders], reducing withdrawal symptoms and craving." The report also concluded that data "point toward a beneficial impact on depressive and trauma-related psychological symptoms."
Through its upcoming series, Beōnd is seeking to demystify the conversation around ibogaine. Beōnd has already succeeded in bringing together the world's most experienced ibogaine therapy providers, as the company works toward establishing the first-ever network of ibogaine clinics. With a core focus on safety, science, and ethics—and a commitment to the most advanced medical technologies and therapeutic practices—Beōnd is positioned to be the global leader in advancing ibogaine as a safe and effective treatment for opioid addiction and trauma.
To learn more about ibogaine and Beōnd's mission to radically expand access to this transformational healing, RSVP here.
TOPICS AND DATES
March 16: Benefits of Ibogaine-Assisted Therapy for Addiction, An Expert Discussion
March 24 (keynote): Dr. Gabor Maté: The Hungry Ghost: A Biopsychosocial Perspective on Addiction: From Heroin to Workaholism
April 6: Ibogaine Science: How Does Ibogaine Work in the Brain to Treat Substance Use Disorder?
April 21: Ibogaine Safety and Detoxification: Ibogaine Therapy and Safe Administration to Reduce Opioid Withdrawal Symptoms and Drug Cravings
May 3: Client Preparation for Ibogaine Treatment: Evaluating Clients for Ibogaine-Assisted Therapy For Addiction
May 18: How to Change Your Thinking About Addiction
June 2: Ibogaine in the Treatment of PTSD
June 15: Ibogaine Success Rates: Critical Considerations for Increasing Long-Term Addiction Recovery
June 30: Physical Preparation for Increasing Ibogaine Success Rates and Long-Term Recovery
July 14: Effective Preparation of Mind & Spirit in Ibogaine Treatment for Addiction
July 27: How Does Ibogaine Treatment Use the Psycho-Spiritual Experience to Advance Addiction Treatment Success Rates
August 11: How Integration and Aftercare Can Increase Ibogaine Treatment Success
August 24: Nutritional and Naturopathic Aspects of Preparation & Integration for Ibogaine Therapy
More information and registration here.