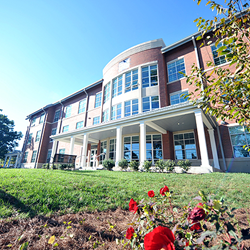 "... ecological sustainability is more than just a trend for Berea," says Derrick Singleton, vice president for operations and sustainability. "Sustainability is at the heart of our mission to 'plain living' as stated in our Great Commitments."
Berea, KY (PRWEB) April 23, 2014
Berea College's Deep Green Residence Hall has earned Leadership in Energy and Environmental Design (LEED) v2009 Platinum Certification and a score of 90 points, making the facility the highest-scoring, LEED-certified residence hall in the world. The LEED certification denotes independent verification from the U.S. Green Building Council that a building is designed and constructed "using strategies aimed at achieving high performance in key areas of human and environmental health."
Considered the benchmark in green building design and construction, LEED provides a framework for identifying and implementing measurable green building design, construction, operations and maintenance solutions and addresses all aspects of a building's performance: from the application of materials to renewable energy, use of day-lighting and natural ventilation, landscaping, the indoor environment and more. In determining a building's certification, LEED measures performance in several sustainability categories, including energy and atmosphere (energy consumption and monitoring and the use of renewable energy sources), water efficiency, materials and resources, innovation in design, and awareness and education.
"This is an extraordinary achievement," says Richard Dodd, Berea College capital projects manager, explaining that Deep Green was originally programmed to achieve 85 LEED points. "Through collaborative efforts we found synergies and cost efficiencies that allowed us to earn the additional 5 points for the highest LEED score for a residence hall."
Located in the foothills of the Appalachian Mountains, Berea serves as a model for sustainability by committing to construction projects that reduce energy consumption and preserve natural resources while protecting the health of buildings' occupants. The first new residential facility constructed at Berea College since the Ecovillage a decade ago, this $15.8 million residence hall is the third campus building to earn LEED certification. Lincoln Hall, the college's administration building, earned a Silver certification in 2004 and historic Boone Tavern Hotel & Restaurant was the first hotel in Kentucky to earn a LEED Gold certification in 2010.
Deep Green is a 42,000 square foot, three-story facility with 66 rooms that house approximately 120 students. Oriented along an east-west axis to maximize sunlight into its interior and allow 114 photovoltaic panels to soak up as much direct sunlight as possible, Deep Green utilizes solar panel arrays, a geothermal heat pump system, enhanced building envelope, Energy Star rated appliances and low-flow plumbing fixtures. These energy-saving features earn all 35 Energy and Atmosphere points and 3 regional priority credits and result in 35% less energy usage than other residence halls in our region and savings of 55% in annual energy costs.
Energy usage intensity (EUI) is most often expressed in terms of annual energy used per square foot of building. Residence halls across the country, on average, measure an EUI of 90. Deep Green is experiencing an EUI of less than 32.
Albeit important, energy reduction is only a part of what makes this building a distinctive shade of deep green. Berea's sustainability commitment stretches far beyond just managing energy efficiency and reducing its carbon footprint.
All trim wood in Deep Green and lumber for the 267 pieces of furniture made by Berea's Student Crafts program was harvested by mule teams in the 8,000 acre Berea College Forest, a Forestry Stewardship Council certified forest. This harvesting method avoided the pollution of heavy machinery, long-distance transportation and assured sustainable forestry operations were in practice.
The avoidance of harsh "red list" construction materials (including PVC, lead and formaldehyde) helps ensure the health of those working and living in the building.
Students were deeply involved in this project by constructing the iconic ceramic sundial in a quilt pattern popular in the region, conducting an archeological dig at the construction site, crafting furniture for rooms and common spaces and creating artwork featured in the building's common areas.
The construction methods, sustainability features and usage of local and recycled materials in construction of the residence hall fit within the college's strategic direction to meet the American College & University President's Climate Commitment goal of eliminating greenhouse gas emissions from campus operations and to promote sustainability to the campus, local community and region.
"We built Deep Green as the world's highest-scoring residence hall because ecological sustainability is more than just a trend for Berea," says Derrick Singleton, vice president for operations and sustainability. "Sustainability is at the heart of our mission to 'plain living' as stated in our Great Commitments. We are committed to living more softly on the land and teaching others to do the same."
The building was designed in a unique, collaborative architectural partnership between Hastings & Chivetta (lead designers) and Hellmuth + Bicknese (sustainability consultants), both based in St. Louis, Mo., with broad representation and input from members of the Berea College community. The building construction was managed by the Lexington, Ky., office of Cincinnati-based Messer Construction Co.
From concept to creation, Berea's Deep Green Residence Hall demonstrates deep sustainability as the highest-scoring LEED-certified residence hall in the world. The facility is also on track for Living Building Challenge Petal recognition by the International Living Future Institute. By incorporating energy conserving features, employing environmentally friendly construction methods and materials, and reducing the college's carbon footprint, Deep Green serves as a model for preserving the integrity of our environment and protecting the health of our people and our planet.
"This project's level of success is undeniably attributable to our campus culture, our supporters and the community surrounding us, says Dodd. "We're now taking the lessons learned and applying them to our current and future campus projects."
Deep Green Highlights:

A 50 kilowatt solar panel array installed on the south roof line produces 14% of the building's annual energy usage.
The buildings closed-loop geothermal system circulates earth-tempered water through 50 wells drilled 375 feet deep into the earth and throughout the building for heating and cooling needs.
Increased insulation, a heat-reflective roof and high-efficiency windows help retain cool air during summer and heat during winter.
Operable windows and ceiling fans in all occupied spaces allows the building to ventilate naturally when conditions are right.
The use of natural day-lighting, Energy Star rated appliances, high-efficiency lighting and energy management controls are used throughout the building to further reduce electrical demand.
Rain gardens with native vegetation and permeable pavements provide storm water protection.
A building dashboard tracks energy consumption and makes occupants and visitors aware of the building's ecological footprint.
Brick manufactured with 100% recycled materials covers the building's exterior and helps create a high-efficiency envelope.
These components result in savings of 55% in annual energy costs and earn all 35 Energy and Atmosphere points and 3 regional priority credits.
# # #
For more information contact Jay Buckner, media relations manager, at jay.buckner(at)berea(dot)edu.