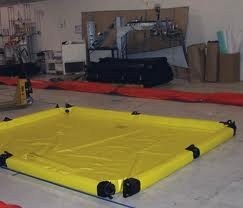 It is time to give the spill containment line the attention it deserves
New York, New York (PRWEB) August 03, 2013
A Plus Warehouse takes pleasure in showing off various items. This is why the company has the product of the day. With such a vast collection of items, customer can easily miss an item or two. Having a product of the day showcases A Plus Warehouse's most interesting products. Today's product of the day is a Foam Berm.
This item is used for spill containment. A Plus Warehouse's spill containment line is an under looked item. Many customers aren't even aware the company offers these products. This is why the company chose the Foam Berm as the product of the day. According to Ed Stairman, president of A Plus Warehouse, " It is time to give the spill containment line the attention it deserves."
Spill containment is vital for protecting the environment. If people are good to the environment, the environment will be good to us. By purchasing an A Plus Warehouse spill containment product, customers are being a part of the solution instead of the problem. Items in this line Spill Control Kit, Spill Control Pallets, Spill Pillows and Socks, Throw N Go Berm, Snap Up Berm, Drive Through Flexwall Berm, and of course the product of the day the Foam Berm.
The Foam Berm is a fairly interesting product. It is extremely similar to the Thow N Go Berm mentioned above. This Berm however is slightly less expensive. These berms are designed for trucks to roll over the edges without causing damage. The product is also fuel resistant with polyethylene. This is a very handy feature. This product is appropriate for water, hydrocarbons and several other chemicals. This is because of its 30 oz fabric. The product also includes a patch kit and 20 extra zip ties for convenience. It also empties easily with its ¼ inch drains. Track and ground mats are also suggested for this product to prevent damage. A Plus Warehouse sells these items as well. This product comes in six different sizes, however sales people may be able to accommodate a special size. A Plus Warehouse truly hopes that customers look into this and other berms. Customers will not be disappointed to try an A Plus Warehouse product.
A Plus Warehouse is the operator of http://www.apluswhs.com and distributes materials handling and storage equipment nationwide and throughout Canada. The sales staff at A Plus Warehouse is available at 800-209-8798. A Plus Warehouse has been in constant operation since 1996.