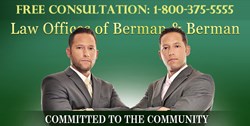 Boca Raton, FL (PRWEB) February 02, 2014
The Florida-based Berman Law Group is pleased to announce that Cecilia Perez-Matos has joined their firm in its Commercial Litigation Department.
Perez-Matos will support the firm's work around cases involving family law, wills, trusts and estates, immigration, real estate, and corporate disputes. She has practiced in the areas of fiduciary administration, probate and estate litigation since 2009.
Perez-Matos received her LLM in Estate Planning and Elder Care from Western New England University, her Juris Doctor from New York Law School, and undergraduate education at John Jay College of Criminal Justice where she graduated summa cum laude with a bachelor's degree in Forensic Psychology. While attending John Jay College, Perez-Matos also received the Audre Lorde Writing Award and obtained a lifetime membership to Psi Chi, the International Honor Society in Psychology.
It was during her time at New York Law School that Perez-Matos felt drawn toward her current field of legal practice and became president of the Trust and Estate Planning Society.
Perez-Matos is admitted to practice law in Georgia and Florida. She is an active member of the Elder and Fiduciary Law Sections of the Georgia Bar, along with the Real Property, Probate and Trust Law Section of the American Bar Association. She is a Veterans Affairs-accredited attorney. Additionally, Perez-Matos is admitted to practice law in the Southern District of Florida.
As for her personal life, Perez-Matos is the daughter of late Venezuelan President Carlos Andres Perez, one of South America's most influential leaders. Before entering the legal field, Perez-Matos was a co-founder of the Carlos Andres Perez Foundation with her father. She now oversees the foundation in her role as president. Cecilia also is a devoted advocate for the Venezuelan community in South Florida. Plus, she is committed to advancing the rights of LGBT (Lesbian, Gay, Bisexual, and Trangender) individuals at local and national levels. She speaks three languages -- English, Spanish and Italian.
For more information on The Berman Law Group, call 1-888-221-2304 or visit their website at http://www.thebermanlawgroup.com.