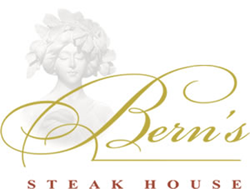 It is an honor to be in New York, especially after our two incredible nominations! - David Laxer, owner, Bern's Steak House
New York, NY (PRWEB) February 25, 2014
Bern's at the Beard House Dinner Set for February 26 in NYC
Chad Johnson and Bern's Steak House Are James Beard 2014 Restaurant and Chef Award Seminfinalists
On Wednesday, February 26th the culinary leads from Bern's Steak House family of restaurants will participate in Bern's at the Beard House, a unique event designed to provide dinner guests with a taste of the incomparable food and wine pairings the empire has to offer.
Participating in the Beard House dinner are Price Evans, Chef de Cuisine at Élevage at the Epicurean Hotel, Habteab Hamde, Chef de Cuisine at Bern's Steak House, Chad Johnson, Executive Chef, Epicurean Hotel, Élevage and SideBern's, Courtney Orwig, Chef du Cuisine at SideBern's, Eric Renaud, Senior Sommelier at Bern's Steak House and Kim Yelvington, Executive Pastry Chef at Bern's Steak House and Chocolate Pi at Epicurean Hotel.The Bern's at the Beard House dinner includes hors d'oeuvres such as Blackstrap Duck Ham with Winter Park Dairy Cheddar on Buttermilk Rye Biscuits, La Saint Simon Oysters with Margie's Mignonette and Soy Caviar. Dinner includes four entrees, featuring Cured Hamachi, Warm Veal Head Terrine, Pressed Quail and Bern's 100-Day Dry-Aged Delmonico Steak. For dessert, guests will enjoy a Valrhona Tasting with Nyangbo Chocolate Mousse, accompanied by tarts, éclairs, and cookies.The Beard House is located at 167 West 12th Street in New York. The dinner is $155 for James Beard Foundation members and $205 for the general public.The Beard House dinner will follow one week after the James Beard Foundation announced the 2014 Restaurant and Chef Award Semifinalists. Bern's Steak House is a finalist for Outstanding Restaurant while Chad Johnson is a finalist for Best Chef: South for his culinary talents at SideBern's. Media inquiries related to the Bern's at the Beard House dinner or the James Beard Foundation Awards may be directed to Brooke Palmer at bpalmer(at)bernssteakhouse(dot)com, 727.235.2389.
About Bern's Steak House
Internationally known for its vast wine collection, perfectly aged steaks and famous dessert room, Bern's Steak House offers a world-class, incomparable dining experience. When Bern Laxer opened in 1956, he envisioned Bern's as Art in Steaks. Today, son David Laxer and Chef de Cuisine Habteab Hamde continue Bern's tradition of excellence with a gastronomic adventure that includes prime dry-aged steaks cut-to-order, 21 choices of caviar, fresh seafood, and vegetables in a setting like none other. Housing the world's largest wine collection of over 500,000 bottles, Bern's offers 7,000 selections to its guests. Additionally, SideBern's, Bern's sister restaurant and its Executive Chef Chad Johnson were named a 2012 Semifinalist for Best Chef: South by the James Beard Foundation. For more information on Bern's Steak House and its subsidiaries, visit http://www.bernssteakhouse.com.
Media Inquiries:
Brooke Palmer
Public Relations Director, Bern's Steak House
Cell: 727-235-2389
bpalmer(at)bernssteakhouse(dot)com