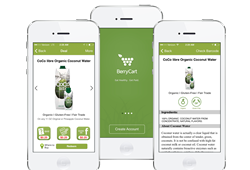 BerryCart tells the story of brands with a great story to tell.
Anaheim, CA (PRWEB) June 27, 2014
BerryCart launches a cash-back mobile app for people looking for organic, gluten-free, non-GMO kinds of products. Users earn rebates when they complete a quiz or read a fact and then upload a picture of their receipt. Once users earn $5 or more, they can cash out their rewards through PayPal or various gift cards.
"Unlike typical 'deal' apps out there, BerryCart has a mission to help people eat better," says Erik Melander, Founder & CEO of BerryCart. "Rates of obesity and food intolerance are on the rise despite the obvious solution - change your diet. The real challenge is making it easy (and fun) for someone to discover new healthy food options. Let's face it, most of us don't have time to research every ingredient and it isn't practical to always cook every meal from scratch."
BerryCart has a simple 3-pronged approach to make it easy to find foods that are organic, with no high-fructose corn syrup or artificial sweeteners or flavors: (a) promote only healthy products, (b) educate users (c) sweeten the deal with cash incentives.
"It feels good to create something that helps people eat better, and also work with companies who care, like sweetriot, who supports fair trade, and Boulder Soup Works who integrates sustainable practices into producing their organic, preservative-free soups," states Erik.
"It also gives me a great excuse to try awesome products like Califia's non-genetically engineered almond milk, Beanitos non-GMO chips, or Salazon's organic chocolate. I hope that BerryCart gives others a great excuse to eat better and to explore too."
BerryCart can be downloaded on the iTunes (Android coming soon).
About BerryCart
BerryCart is a privately held company headquartered in Anaheim, CA that provides people who care about what they eat with mobile rebates that are unlocked when users complete simple tasks on their phone to learn about the product. BerryCart offers healthy food brands an interactive way to acquire new customers by telling their story to a highly targeted audience.
Website: http://www.berrycart.com
Facebook: https://www.facebook.com/BerryCart
Download BerryCart: https://itunes.apple.com/us/app/berrycart/id816835208