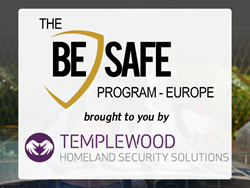 "We are thrilled to partner with a proven leader such as Templewood and look forward to working with its Managing Director Richard Benson and his team to deploy our intelligent emergency response mapping platform." - Tom McDonald, CEO, BeSafe Technologies
Barnstable, MA (PRWEB) January 31, 2014
BeSafe Technologies, Inc. is pleased to announce that it has signed a Multi Year License Agreement with Templewood Homeland Security Solutions Ltd. of London to implement BeSafe's Emergency Preparedness and Response System in the United Kingdom and Mainland Europe. BeSafe Technologies Inc., the winner of the 2013 Government Security News (GSN) "Best Facility Security/Emergency Response Software" award, has transformed the way people plan, communicate and collaborate when faced with an emergency. Tom McDonald, CEO of BeSafe Technologies, commented, "We are thrilled to partner with a proven leader such as Templewood and look forward to working with its Managing Director Richard Benson and his team to deploy our intelligent emergency response mapping platform to help secure facilities in the United Kingdom and mainland Europe. This is our first venture outside of the United States and we are truly excited that our expansion is being managed and implemented by the Templewood Group."
About Templewood Homeland Security Solutions Ltd.
UK and Europe based Templewood Homeland Security Solutions is a strategic advisory and consulting firm helping the private and public sector navigate complex risks, identify practical solutions and manage their implementation.
For more information on about Templewood Homeland Security Solutions Ltd., please visit http://www.thss.eu or contact Richard Benson at richard(dot)b(at)thss(dot)eu or call +44 20 3151 0099
About BeSafe Technologies, Inc.
BeSafe Technologies provides first responders with advanced information about a facility's physical layout, surroundings and access points before arriving at a location, thus enabling responders to expedite their intervention. This includes aerial imagery and digital photographs of all facades, entrances and egresses, the location and description of hazardous materials and critical utility shut-offs. This allows first responders to know the exterior surroundings of the property, access routes, and a view of all entrance and escape points, as well as asset identification, enabling pre-planning of evacuation and response. The information is distributed electronically to emergency response agencies and is accessible from most police and other emergency vehicles. BeSafe's systems are currently implemented in approximately 2,500 end user sites, including over 150 school districts and colleges across 10 states, and numerous hospitals, law enforcement agencies and municipal facilities.
For more information on BeSafe Technologies, please visit http://www.besafe.net or contact Tom McDonald at tmcdonald(at)besafe(dot)net or toll free (866) 216-5649.