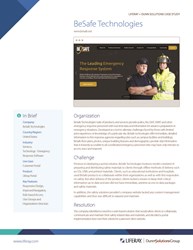 The deployment of the "BeSafe Safety Portal" enabled BeSafe Technologies to position itself as a web-based safety and emergency preparedness planning solution for schools, hospitals, commercial facilities, and other organization types.
Barnstable, MA (PRWEB) January 28, 2014
BeSafe Technologies, Inc. was featured in a case study for its recent migration and improving its web application's responsive design and navigation.
To read the complete article, see the BeSafe and Liferay - Case Study.
Liferay developed the case study based on work conducted by BeSafe Technologies and their developer, Dunn Solutions Group. The scope of the project included migration of custom code from a previous version of Liferay Portal to the newest version of their enterprise portal solution. Also in scope was the migration of all client information, including user accounts, client facility data, floor plans, imagery, and additional custom elements.
The project was completed over a period of 4 months, allowing time for consultation between BeSafe, its board of advisers, Dunn Solutions Group, and their on-shore and off-shore design teams.
BeSafe was extremely pleased with the final delivered product, and launched the new site December 2013. Please view the attached case study for more details.
About Dunn Solutions
Dunn Solutions Group is a full-service information technology consulting firm and a Liferay Platinum Services Partner. Services provided include portal, business intelligence and application development solutions worldwide through offices in Chicago, Minneapolis, Raleigh, and Bangalore, India.
About BeSafe Technologies, Inc.
BeSafe Technologies provides first responders with advanced information about a facility's physical layout, surroundings and access points before arriving at a location, thus enabling responders to expedite their intervention. This includes aerial imagery and digital photographs of all facades, entrances and egresses, the location and description of hazardous materials and critical utility shut-offs. This allows first responders to know the exterior surroundings of the property, access routes, and a view of all entrance and escape points, as well as asset identification, enabling pre-planning of evacuation and response. The information is distributed electronically to emergency response agencies and is accessible from most police and other emergency vehicles. BeSafe's systems are currently implemented in approximately 2,500 end user sites, including over 150 school districts and colleges across 10 states, and numerous hospitals, law enforcement agencies and municipal facilities.
For more information on BeSafe Technologies, please visit http://www.besafe.net or contact Tom McDonald at tmcdonald(at)besafe(dot)net or toll free (866) 216-5649.