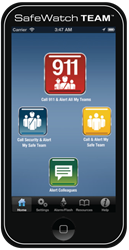 The SafeWatch TEAM™ application enhances BeSafe's ability to deliver accurate and detailed information, instantly and in real time to police, fire, SWAT and other emergency teams. - Tom McDonald, CEO of BeSafe Technologies
Los Angeles, CA (PRWEB) January 29, 2014
White House award-winning Smartphone Safety App technology developer, Safety Alert Apps, Inc., announced today a strategic alliance with BeSafe Technologies, a leading emergency response system provider.
In making the announcement Jill Campbell, Chairman of Safety Alert Apps, Inc. said, "Every day we see the increased need for public safety at schools, our work places, malls and other open venues. We are very pleased to be working with BeSafe Technologies to provide their clients with our smartphone safety app, SafeWatch TEAM™." She continued, "SafeWatch TEAM™ arms the user with safety technology on their smartphone, providing help immediately and simultaneously alerting the user's specific first responders emergency team with critical information."
Tom McDonald, CEO of Massachusetts based BeSafe Technologies said, "The SafeWatch TEAM™ application enhances BeSafe's ability to deliver accurate and detailed information, instantly and in real time to police, fire, SWAT and other emergency teams." He continued, "We provide our clients with a cutting-edge, user-friendly product that instantly gives first responders the tactical information they need to make split second decisions that will help save lives."
About BeSafe Technologies, Inc.
BeSafe Technologies provides first responders with advanced information about a facility's physical layout, surroundings and access points before arriving at a location, thus enabling responders to expedite their intervention. This includes aerial imagery and digital photographs of all facades, entrances and egresses, the location and description of hazardous materials and critical utility shut-offs. This allows first responders to know the exterior surroundings of the property, access routes, and a view of all entrance and escape points, as well as asset identification, enabling pre-planning of evacuation and response. The information is distributed electronically to emergency response agencies and is accessible from most police and other emergency vehicles. BeSafe's systems are currently implemented in approximately 2,500 end user sites, including over 150 school districts and colleges across 10 states, and numerous hospitals, law enforcement agencies and municipal facilities. For more information on BeSafe Technologies, please visit BeSafe.net or contact Tom McDonald at tmcdonald(at)besafe(dot)net or toll free (866) 216-5649.
About Safety Alert Apps, Inc.
Safety Alert Apps, Inc. based in Sun Valley, California is the leading provider of Smartphone Safety Alert Applications. The security alert apps produced by the company include, White House award-winning OnWatchOnCampus®, designed to combat sexual assault on college campuses. To find out more about the company and all their products, visit SafetyAlertApps.com.