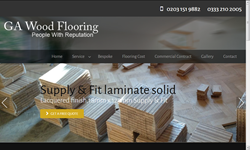 We have a long list of satisfied customers, for whom we have created custom designed and polished floorings.
(PRWEB) March 31, 2015
With over 20 years of experience in the flooring industry, GA Wood Flooring specializes in the supplying and installation of bespoke and luxury floors in London. They offer services to install every kind of wooden flooring in private homes and commercial properties, and have employed experienced fitters who work with full attention to detail whilst giving equal importance to health and safety. GA Wood Flooring provides high quality bespoke wooden flooring at the best prices.
One of the executives of GA Wood Flooring stated, "We have a long list of satisfied customers, for whom we have created custom designed and polished floorings. We have borrowed inspiration for the traditional French Versailles parquet floors from the old French method, where the elements are combined with tongue and groove, with no adhesive, just like the real parquets that appeared in France in the 17th century."
GA Wood Flooring imports unfinished engineered hardwood flooring in two formats. The first one is the 20x190 sanded "GA" range, which is a well-priced robust flooring, and the second one is our 21x180 brushed "GA" range which provides a superior finish. Both the products are engineered to the customer's taste. Both the products are available in an extensive range of colours and are suitable for under floor heating as well. To fulfil the requirements of the clients, they offer products that are exactly what they desire rather than a close match.
The executive further quoted, "We have the same standards for our fitting teams. The workers are an experienced lot and master craftsmen, who have been rigorously trained by us. We aim to deliver superior service. Whatever designs inspire you - a chessboard effect, intricate marquetry, a spiral staircase - our craftsmen will ensure your dreams are created to perfection."
GA Wood Flooring is a leading natural wood flooring company, London. They offer a wide range of wooden flooring and also undertake various services such as professional floor fitting, door and door frames trimming, supply and installation of matching wood floor accessories and more. People who want to find Bespoke wooden flooring, Mayfair can browse through this website, and get more information.
About GA Wood Flooring:-
GA Wood Flooring has more than 20 years of experience and is one of the best wood floor sanding company's in London. They offer comprehensive package wooden flooring in parts of the UK. They offer a large variety of laminate solid & engineered wood floorings with different thickness of natural wood top layer. For those who are looking for a floor sanding company in Chelsea this is the place.
Contact Information:-
GA Wood Flooring
Address: 91 Ballards Lane, Finchley, London, N3 1XY
Phone: 0203 151 9882
Phone: 0333 210 2005
E-mail: info(at)gawoodflooring(dot)com
# # #