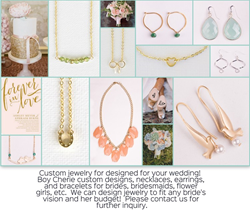 The jewelry Caitlin created for my wedding was gorgeous...looking simple yet elegant.
Santa Monica, California (PRWEB) November 05, 2014
Santa Monica, California-based Boy Cherie (http://www.BoyCherie.com) has been creating elegant jewelry for the effortless beauty since 2011. Today, designer/founder Caitlin Reyna is pleased to announce the expansion of the company's bespoke wedding jewelry line.
Boy Cherie is recognized for its delicate, often minimalist, wire-wrapped jewelry handcrafted with sterling silver and 14k gold filled wire, gemstones, crystals, Czech glass beads, precious metal charms and other embellishments. The company strives to help women look sophisticated and polished without appearing to have tried too hard.
Since Boy Cherie's inception and even before, Reyna has been creating made in the U.S.A. bespoke jewelry for weddings and other special occasions. Positive word of mouth over the last several years has encouraged her to expand this aspect of the business. The designer reveals, "Finding a way to create a piece of jewelry that someone has been dreaming about—and that fits within their budget—is profoundly gratifying. I have worked with so many brides who knew what they wanted yet could not find it in stores. It is a privilege to work with each client to help her create the wedding of her dreams."
Testimonials from satisfied customers reflect Boy Cherie's hands-on, interactive approach, which involves not only understanding the client's needs, but providing suggestions and options along the way.
Says client Jennifer Wardrobe, "The jewelry Caitlin created for my wedding was gorgeous… the necklace and dangle-drop earrings complemented [the dresses] perfectly, looking simple yet elegant on each of my bridesmaids."
Andrea Murphy recalls, "Boy Cherie took my vision and completely blew me away with the sophistication and style of the jewelry. I have had Boy Cherie design jewelry for other events since, and the pieces have been impeccable."
From Nina Sanchez comes the following: "I wanted Caitlin to create a piece of jewelry [for my bridesmaids] to wear on my wedding day and for days to come…I was blown away by the simplicity and beauty of her work."
Timeless elegance and 1920s Art Deco inspire Reyna's designs. She says, "I prefer that jewelry not overpower a woman's look. I am a firm believer that you should notice the woman first and then her clothing and accessories."
Readers can learn more about Reyna's designs and inspirations at her blog, Bespoke by Boy Cherie.
Boy Cherie will gift its jewelry at GBK's Luxury Celebrity Gift Lounge in Honor of the Nominees & Presenters of the 2015 Golden Globe Awards. Boy Cherie jewelry is available online at BoyCherie.com and BoyCherie.etsy.com, at select fine craft shows and boutiques across the United States.
Individuals who would like to learn more about Boy Cherie bespoke wedding and bachelorette party jewelry should contact Caitlin Reyna by email or phone. Contact information is listed in the upper right-hand corner of this press release.
ABOUT BOY CHERIE
Boy Cherie (http://www.boycherie.com) embodies delicate and elegant style. Designer/founder Caitlyn Reyna believes jewelry should be everlasting, so she makes each piece by hand to ensure it is of the highest quality. Caitlin named her company Boy Cherie as a tribute to Coco Chanel. Arthur Edward "Boy" Capel was Chanel's longtime suitor. He gave her the money to open a hat store in Paris which grew into the House of Chanel.