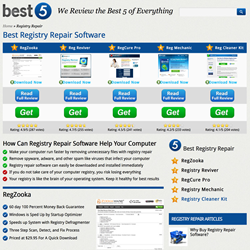 This type of software looks into your computer's registry – the area that keeps track of your computer's hardware, software and preferences – and repairs any issues it discovers
Los Angeles, CA (PRWEB) April 17, 2014
Best-5, a website that is devoted to offering consumers thorough and unbiased reviews about a huge variety of products and services, has just added a new section devoted to the best registry repair software programs. Since the day the website first launched, Best-5 has strived to offer expert reviews as well as educational articles and user testimonials about a plethora of different products. The site's helpful star rating system also helps consumers decide which company or service might be best for their particular needs.
After spending months collecting user votes and thoroughly analyzing the different services and features of many of the top registry repair companies, the founders of Best-5 have completed their work and have added the new section to the website. A product called RegZooka claimed the top spot as the number one registry repair software.
In addition to helping readers learn more about the top five registry repair companies—including their products, services, pricing plans, and what helps to make them unique and set them apart from the competition—Best-5 also features a variety of in-depth articles that relate to each of the industries they review. For example, a new article titled "Why Buy Registry Repair Software?" explains in great detail how the software works, and why computer owners may want to consider purchasing it in the first place.
While new computers typically run very quickly and tend to be problem-free, over time the device will usually begin to slow down. Instead of running out to purchase another computer—which is typically quite expensive—computer owners often look for other ways to fix their sluggish unit.
"Registry repair software is designed to fix the complications that bog down your computer," the article noted.
"This type of software looks into your computer's registry – the area that keeps track of your computer's hardware, software and preferences – and repairs any issues it discovers."
As the review of RegZooka notes, the registry repair software program is quite adept at helping computers perform well. For example, Window is sped up by a Startup Optimizer, and a Registry Defragmenter helps to speed up the overall system. In addition a 3-step Scan, Detect and Fix process helps to keep the computer running efficiently. The software is priced at $29.95 for a quick download, and the company offers a 60-day, 100 percent money back guarantee.
Anybody who would like to learn more about RegZooka or the other top registry repair software programs is welcome to visit Best-5 at any time; the founders of the site are proud to offer consumers reviews of hundreds of products and services, and they encourage people to visit the site often to read the in-depth reviews and articles.
About Best-5:
Best-5 reviews the best of everything. The website provides expert reviews, in depth articles, user testimonials, and a star rating system. The website features reviews of hundreds of products and services. For more information, please visit http://www.best-5.com/registry-repair/