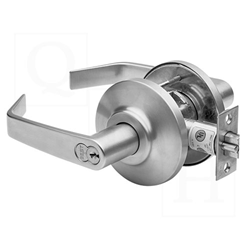 West Babylon, New York (PRWEB) March 24, 2015
Quality Door & Hardware, Inc. today announced the Best 7K Series Medium Duty Locksets as its choice for March 2015 Featured Product on its e-commerce site. Quality Door has found that the Best 7K Series Locksets represent quality workmanship at competitive pricing for all medium duty applications.
The Best 7K Series locksets are medium duty locks featuring cylindrical chassis manufactured to fit most common door preparations. The Best 7K series, which have no exposed keeper holes on the keyed levers for increased security, also feature a hub torque spring which provides extra resistance to lever sag. Of course, all of the Best 7K Series locksets also contain interchangeable cores of solid brass, and are standard pin-tumbler type in lever with a 7 pin-core.
All of the component parts of the Best 7K Series locksets are either brass, bronze or zinc composition and are corrosive treated to resist normal atmospheric conditions. The Best 7K Series meets and fully complies with ADA regulations and specifications listed by BHMA for A156.2, Grade 2 locks.
The Best 7K Series locksets are available in a choice of bright-brass, satin brass, satin bronze, oxidized bronze, bright chromium and satin chromium finishes and will accommodate door thickness of 1 3/8" to 2". When the application calls for a quality medium duty lock, the Best 7K Series locksets are clearly the best choice.
Quality Door & Hardware, Inc. invites you to visit their e-commerce site at http://www.QualityDoor.com, to learn more about the Best 7K Series locksets and all of the other featured quality commercial door hardware products. As always, every product sold is backed by Quality Door & Hardware's unparalleled customer service and guaranteed everyday competitive prices. Come visit us soon and experience for yourself "the difference that 'Quality' can make in your business".