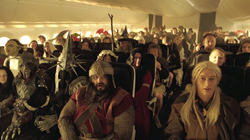 Not only innovative videos are excellent for promoting in-flight safety to a wider audience, they also generate the kind of positive and widespread viral PR buzz that money simply can't buy.
(PRWEB UK) 30 May 2014
Jetting off for a holiday in the sun – or snow – is undeniably exciting, and for many travellers the excitement begins as soon as they arrive at the airport. That is not to say that the process of air travel is not without its mundane side however. Queuing at the check-in desk and immigration can be boring, and the business of clearing security isn't exactly enjoyable either. And once the traipsing around airport terminals, queuing and waiting in the departure lounge is over, there is still the in-flight safety video to endure before the plane has even left the runway.
In-flight safety is something that neither cabin crew nor passengers can afford to ignore. The challenge faced by airlines has been to find a way of capturing passengers' attention to ensure that they become aware of safety and emergency procedures. The answer many airliners have found is to create in-flight safety videos that present information in an innovative, entertaining and ultimately unforgettable way.
Some airlines' recent 'all-singing, all-dancing' in-flight safety videos have become popular entertainment classics in their own right. Their high production values and novel approach winning them thousands of fans amongst non-travellers via online video sharing sites such as Youtube and Vimeo, as well as on social media websites including Facebook and Twitter. Not only is this excellent for promoting in-flight safety to a wider audience, it also generates the kind of positive and widespread viral PR buzz that money simply can't buy.
Every year, it seems that another airline will raise the bar for producing the best videos. These are vacation rentals website Alpha Holiday Lettings' pick of the top five most creative, fun, entertaining and memorable in-flight safety videos of recent years.
#5 Virgin Atlantic – A Trip Through The Silver Screen
Many airline travellers will identify with the main character in Virgin's clever new animated safety video. Nodding off to sleep instead of paying attention to the safety advice he is being given, a passenger finds himself in a dream pastiche of classic movie genres. One minute he is in an old western saloon and being advised to stow his luggage by an enigmatic gunslinger, the next he is in an exhilarating car-chase movie, travelling so hectically that oxygen masks drop from the ceiling. Throw in film noir, monster movies, a grand old dance number and a dash of James Bond and you have an entertaining in-flight safety video that works on every level.
#4 Delta Airlines – Back To The 1980s
Delta's ingenious offering plays upon a generation's nostalgia for the 1980s and is liberally, and hilariously, littered with pop culture references and items from that era. The aspect that makes this video both fun and engaging for the passenger is spotting as many of these as references as possible; big hair, leg warmers, breakdancing, the Atari games console and the Rubik's cube all make appearances. Plus there is the knowing fun of seeing '1980s' passengers looking decidedly confused at the mention of on-board Wi-Fi.
#3 Thomson Airways – Alice & Co
Alice the Chief Steward, the pilots, the rest of the crew and even the passengers in this video are all small and undeniably cute kids, and there is something compelling and funny about watching children play the role of adults – especially when the topic is as important as in-flight safety. For flying mums and dads this video has the essential 'aaaah' factor that will keep them watching, whilst kids will love it too because it proves that anything adults can do, kids can do it just as well. Only funnier.
#2 Virgin America – VX Safety Dance
Richard Branson's team again demonstrates its uncanny ability to create pure entertainment from a potentially dull subject. A sharply-choreographed and energetic song and dance routine manages to pack in all of the essential safety information for passengers along with a singing nun, contortionists, robotic rap and plenty of humour. The sense of fun and joy in this video is infectious, ensuring that passengers will be tapping their feet and smiling, even as they are learning how to evacuate a plane.
#1 Air New Zealand - An Unexpected Briefing, Hobbit Style
As yet, no airline can match Air New Zealand's (or Air Middle-Earth's) unique Hobbit-inspired in-flight safety video for sheer cinematic scale and quality. A master class in how to create an information video that people will actually want to watch, Air New Zealand's beautifully-shot film features a plane whose crew and passengers are almost exclusively denizens of Tolkien's epic fantasy world. Characters including elves, wizards, dwarves, orcs and even Gollum himself take it in turns to explain various on-board safety procedures, backed by an authentic Hobbit-movie soundtrack. Stirring and unforgettable for sure, and there is even legroom for an unexpected cameo by a certain Kiwi movie director.
Click here to view all the above videos and other entries that just missed the top 5.
About Alpha Holiday Lettings
Alpha Holiday Lettings is one of the top vacation rentals marketplaces in Europe and offers self-catering villas in France, apartments and holiday cottages in England, Spain, Portugal, Italy, Cyprus, Turkey and other destinations around the world. The majority of the properties listed on Alpha Holiday Lettings are privately owned and are booked directly with holiday home owners. For more information, visit Alpha Holiday Lettings' website.