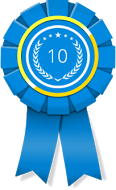 SAN FRANCISCO, Calif. (PRWEB) May 31, 2016
10 Best Design has started a new monthly awards system to recognize and recommend the best performers in the Android app design industry. Leading Android app development company Appstem tops the list of winners for the brand new award.
To select the Best Android App Design Firm Award winners, 10 Best Design extensively vetted and researched the capabilities of a variety of companies, each of which having their own strengths and weaknesses. 10 Best Design then compiled its list of the award-winning design firms, so consumers can make a smart decision for their next project.
Appstem is a top Andoid app design firm based in San Francisco, California. The agency focuses on designing and developing apps for a wide variety of clients, categories, and niches. The experts at Appstem are all professionals and highly educated in the world of programming and coding for Android platforms. Whether a company needs an app that includes integrated HTML5 or PHP for excellent back end management or simply wants to offer their customers some extra convenience or features, Appstem has the years of collective experience to create beautiful, user friendly apps. Apps developed by Appstem can even be cross platform-compatible if clients wish, meaning that the apps will work on mobile systems as well as desktop computers.
Savvy Apps is an Android app design firm that offers its services to a large number of satisfied clients, ranging from mom and pop stores that wanted to catch the digital wave and stay up to date with current trends to major retailers that needed their apps to be managed by thousands. This is partly why Savvy Apps earned its place on the list of leading Android app development companies. As indicated by its name, Savvy Apps keeps its finger on the pulse of the current tech industry. Customers of this Android app design firm will find that their apps are at the cutting-edge of development and user features. The team of coding wizards at Savvy Apps aim to provide consumer solutions to clients through their professional, courteous service. They also strive to listen to a client's instructions and make the app that the client has requested—with all of the necessary functionality and options. Savvy Apps offers these services and more at an affordable, highly competitive price, which makes them an attractive option in the marketplace.
For more information about this month's award winners, please visit http://www.10bestdesign.com.