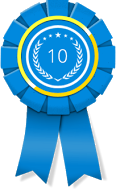 Manhattan, NY (PRWEB) November 28, 2016
Recently, 10 Best Design released the names of the winners of its monthly award to honor the best Android app design firms in the industry. For November 2016, the organization named Big Drop Inc as the top award winner in this category.
Android is the most popular mobile platform in the world, and many businesses who want to reach mobile customers want to create an app that will run on it. 10 Best Design helps companies find the leading Android app development firms by reviewing some of the world's best developers and giving out awards to recognize their expertise. Any company doing business with one of the winners can be assured that they are dealing with a development firm that takes their work seriously and will deliver a quality app.
Here is a description of top winners of the Best Android App Design Firm Award:
Big Drop Inc is where some of the most talented mobile app professionals work every day. Based in Manhattan, this Android app development firm offers services that will meet the needs of any business that wants a fully custom Android app. This is partially why Big Drop Inc is considered to be one of the best andoid app design firms in the country. Their team always takes the time to understand what each of their clients wants to accomplish by launching their own Android app. This way, they can come up with a solution that works for anyone, whether they are working for a local business that would like to keep customers coming back to their retail store or an ambitious online entrepreneur who wants to create a series of useful free apps monetized by in-app advertising. Every Android application they create goes through a rigorous testing and quality assurance process to make sure there are no errors or bugs that could affect the user experience.
Innovation in mobile app development is what Appstem is known for in the industry. As a leading Android app development business, Appstem creates beautiful apps that truly capture the attention of their users. Their creative and technical professionals stay on top of the latest techniques, trends and developments in the Android app creation world. They use what they have learned to put together apps that are robust from a technical point of view, all while having the most attractive user interface possible. They have helped many local and nationwide businesses integrate an Android app into their digital marketing strategies and are ready to do the same for new clients.
For more information about this month's winners, visit http://www.10bestdesign.com.