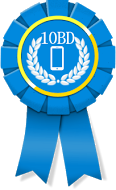 SAN FRANCISCO, California (PRWEB) July 30, 2015
San Francisco-based 10 Best Design, a well-respected name in the mobile app development industry, is excited to announce its top rankings for app design firms. 10 Best Design feels that when it comes to mobile application development and design, a trustworthy firm that delivers positive outcomes is a necessity. That's why the awards organization is pleased to share its insights on premium providers.
10 Best Designs offers well-researched rankings of app design firms with a proven track records of success. Their team's extensive knowledge of coding, online branding, web design, and app development enables them to point out industry leaders with confidence. 10 Best Design's rigorous review process combines the expertise of the brightest minds across the country with advanced proprietary analytic algorithms to provide rankings for their prestigious "Best of" lists. The awards for this round of rankings include Best iPhone App Company, Best Mobile App Businesses, and Top Android Firms, among other important accolades. For this list of rankings, 10 Best Design is awarding excellence in the field of Best App Design Firm.
The top-ranked best app design agency is Blue Fountain Media of New York, New York. They have received the award for being among the Top Android App Firms largely thanks to the high-quality apps their company releases. Blue Fountain Media has the best, most talented minds in their field striving to consistently create apps for their clients that showcase innovative online marketing strategies, creativity in design, and unique mobile content development.
Another New York, New York native, Big Drop Inc., holds the second-place spot on 10 Best Design's list of outstanding app design firms. Big Drop has also been named on the roster of 10 Leading Android App Agencies. Big Drop's cutting-edge technology allows their firm to design apps that are optimized for flawless performance across all of the major web browsers, which sets them apart in the industry. They utilize this capability in conjunction with their specialized, updated marketing strategies to deliver wildly successful apps to every client's respective business.
New York City- based Lounge Lizard has been awarded the number 3 spot by 10 Best Design and is also recognized as one of the Top 10 iPhone App Companies. Lounge Lizard is frequently referenced as the best mobile app design firm in the industry by its client base. They are experts in a wide range of fields, including brand positioning and mobile app design.