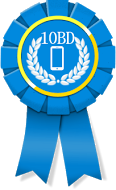 NEW YORK, N.Y. (PRWEB) August 19, 2015
Determining the best app design firm can be difficult, but 10 Best Design has made the task easier with its latest list of the best web design firms and graphic design firms. The awards organization recently announced some of the best iPhone app firms and shared why each firm was recognized.
Topping the list of best app design firms, according to 10 Best Design, is Blue Fountain Media of New York City, New York. This company has a reputation for knowing how to create a quality app the first time around. Not only will this company work with big names (such as HarperCollins), but start-up businesses are also welcome to sign up to have their help.
The second best iPhone app company, Big Drop Inc., is also based in New York City. There is a constant need for high quality, interactive apps, Big Drop Inc. has found a way to satisfy each client's requirements with excellence. Design, branding, and marketing apps are done well by this company. Each customer gets specialized apps for their company. The apps designed are well researched, designed, and thoroughly tested to enable the company to create the best app they possibly can.
Lounge Lizard takes third place on 10 Best Design's list of best app design firms. Lounge Lizard, which is based in New York City, also has locations in Los Angeles and Long Island. This company knows how to make the apps they make appear in search engines. The large staff creates apps specific to each customer that comes to Lounge Lizard. Technology on the forefront of the discipline is used by this company.
The other brands that made the list include Heumor Designs, Eight25Media, Hudson Horizons, Inflexion Interactive, Forix Web Design, Konstant Infosolutions, and Dotlogics. In addition, one firm garnered special recognition from 10 Best Design. However, each company—whether it made the list or received recognition—offers quality apps that are well worth the money, and custom to each customer. With experienced staffs and quality at the front of their mind, these companies make apps that exceed everyone's expectations.