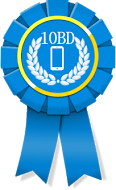 SAN FRANCISCO, Calif. (PRWEB) July 19, 2016
Recently, 10 Best Design released its rankings for some of the top app design companies in the business. Making the awards organization's list for July 2016 are Blue Fountain Media, Forix Web Design and Eight25Media.
App creation and development are immensely difficult and require more work than what most would expect. Any app development team that shows promise and success deserve recognition for their hard work in what they offer clientele.
10BestDesign.com has taken the time over the years to provide a wide range of digital marketing agencies the option to be recognized for their work. Their latest awards are placed to showcase the Best App Design Firm. This is an ongoing monthly award that is given out to only the best in the industry.
10BestDesign uses a wide variety of statistics and other vital information to determine who receives what award. Making sure they award only the best in the business, they make sure they recognize the ones who truly deserve recognition.
Blue Fountain Media is No. 1 on 10 Best Design's list of leading mobile app businesses due to its excellence and specialized services. The personnel at Blue Foundation Media possess immense skills with specialization across coding, scripting and overall general app development. Based in New York, the company has the capabilities to help turn any idea into an app.
Utilizing different strategies and techniques, Forix Web Design brings together a team of fascinating and talented individuals into one place. Being a top app design firm, Forix Web Design has created a long list of successfully designed apps over the years, and they continue to accomplish new strategies using new software development. Their strategic development and craftsmanship creatively help enhance the creation of all apps.
As one of the best app design firms, Eight25Media offers top-of-the-line IT solutions that utilize the power of open source technology. Located in California, they employ a wide array of hardware producers like Apple and Google. Focusing on all different aspects of development like visual and programming development, Eight25Media is always on the look out for new ways to improve.
These amazingly talented companies can provide any company or brand with everything they need to thrive in the world of apps. 10BestDesign is a reliable agency that strives to connect everyone with the right companies to work with in the world of app design. These firms have crafted their business over the years and have delivered only the best services to ensure that customers get only the right app developed and programmed. This list can help anyone find the right agency to work with when getting their app created.
For more information about these award-winning companies, visit http://www.10bestdesign.com.