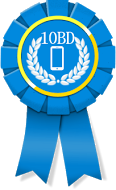 NEW YORK, N.Y. (PRWEB) October 21, 2015
10 Best Design recently chose Blue Fountain Media of New York as its top mobile app firm for the month of October 2015, as part of its new monthly Best App Design Firm award. 10 Best Design provides ratings and reviews for a vast array of design firms, including those that concentrate on graphic design, architectural design and product design.
The imaginative professionals at top mobile app agency Blue Fountain Media create handy mobile applications that are suitable for smartphones that work with iOS and Android alike. Application design is just one component of Blue Fountain Media's many services. Blue Fountain Media spends a lot of time zeroing in on mobile devices and their needs. When this company makes apps, their goal is to aid their clients in gaining the attentions of people who may become their future customers. Blue Fountain Media regularly makes applications that are used alongside GPS (Global Positioning Systems) systems. These apps are beneficial for smaller businesses that don't typically depend much on Internet sales.
Big Drop Inc. is another New York City agency that shines in the world of leading mobile app firms. Big Drop Inc. stands out because it's constantly trying to enhance its approach to digital strategy. Part of this involves the bettering of application development. The skilled and seasoned programmers on the Big Drop Inc. staff create mobile applications after paying attention to significant amounts of detailed market research. They also create these applications after paying careful attention to patterns in web analytics, particularly as they relate to tablets and smartphones in coming years.
Lounge Lizard, like the first two companies, also is based in New York City. As one of the best app design companies, Lounge Lizard is reputable due to its innovative, creative and fun apps. Lounge Lizard has provided many exciting brands with excellent design and marketing services. The applications they produce have many diverse objectives. For example, some of them aim simply to gain customers. Others strive to significantly boost sales. The professionals at Lounge Lizard are well-versed not only in thorough application design, but also in communication and branding. That's why so many people consider Lounge Lizard to be among the finest digital companies around these days. The apps made by Lounge Lizard are impressive for a diversity of reasons.