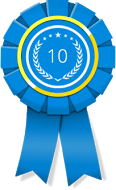 NEW YORK, N.Y. (PRWEB) September 27, 2016
10 Best Design is delighted to reveal names of the winners of its Best Architecture Web Design Firm Awards for September 2016. At the top of the list are Big Drop, Inc, Blue Fountain Media and Fine.
10 Best Design is pleased to regularly provide readers with clear, accurate information regarding which digital marketing firms offer the most effective services. For this reason, the company is excited to announce its new award category: Best Architecture Web Design Firm.
Big Drop Inc came in at No. 1 on 10 Best Design's list of leading architecture web development companies. Big Drop Inc is a progressive, powerful architecture web design and development firm that specializes in putting together cutting edge, interactive product pages for clients who want to wow the customer and optimize conversion. Each site developed by the techies of this firm is optimized for engagement, and every product page is conspicuously innovative for the purpose of distinguishing the client's brand from that of the competitor. Additionally, the Big Drop Inc representatives place primacy on remaining in constant communication with the client to ensure that she or he is always aware of how the website is developing.
Top architecture web design firm Blue Fountain Media loves empowering the business owner to effectively interface with the target market in the online realm. The techies of Blue Fountain Media utilize a wide range of site development strategies to optimize connectivity, and one is the use of responsive web design techniques. These techniques enhance the site for cross compatibility, thereby ensuring that people across all platforms can easily access the client's product pages. The sites designed by the Blue Fountain Media team are also optimized for key factors such as creativity, engagement, and conversion.
Individuals who run architecture companies and are seeking excellent web design and development services should call the professionals of Fine, another leading architecture web design firm. The professionals of this marketing firm know the power of innovation, and they work with persistence and patience to develop websites that are conspicuously original. Additionally, the product pages developed by the professionals of Fine are optimized for important elements like mobile friendliness, cross compatibility, and engagement.
For more details about the September winners in this awards category, visit http://www.10bestdesign.com.