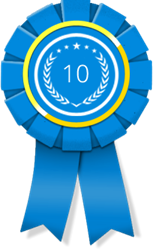 SAN FRANCISCO, Calif. (PRWEB) May 20, 2015
San Francisco-based 10 Best Design recently released its list of the Top 10 Best Architectural Web Design Firms. Comprised of professional individuals from across the country, 10 Best Design utilizes extensive industry experience to be the No. 1 online organization providing web design ranking, reviews, and awards. To determine the companies featured in their listing, 10 Best Design uses their own Analytic Review Algorithm. Results are developed using online research, previous awards and popularity with clients, along with proprietary analytics, and other rankings.
Coming in third is The Future Forward, a top architecture web design business out of Brooklyn, New York. Specializing in visual branding with comprehensive design, they provide much more than the basics of a website. Believing their name to be a symbol of their mission, The Future Forward helps their clients to define the future of their mission with a modern web design to communicate value to any audience. They provide a personal touch, really getting to know their client's passions and needs to create the best product to represent them for the future of their success. Unifying design, direction, and development, The Future Forward is committed to high-end results.
The second choice for Best Architecture Web Design Business is Fine of San Francisco. With a friendly atmosphere and cutting-edge aesthetics, Fine has quickly taken its place as a leading architecture web design firm. Architecture firms rely on Fine to help create the website they need. With the potential to redefine, reshape, and connect to their customers in new and innovative ways, architectural firms demand the excellence Fine provides to its clients. Fine's websites have won a number of prestigious awards for their superior appearance and functionality.
New York, New York houses the No.1 choice for Best Architecture Web Design Business—Big Drop Inc. Situated deep among the many beautiful skyscrapers of New York City, Big Drop Inc. brings an intimate knowledge of the spirit of architectural firms to their business and clients. Providing a full package that includes integration of landing pages, services and contact information, Big Drop Inc. provides all that an architectural firm needs to move its business into the future.