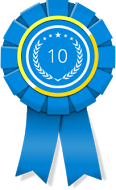 NEW YORK, N.Y. (PRWEB) December 12, 2016
10 Best Design is pleased to present the winners of its 10 Best Architecture Web Design Firm awards for December 2016, selecting Big Drop Inc, Blue Fountain Media and Fine as the leaders in this category.
Web design firms that serve the architecture industry are a dime a dozen, but that doesn't mean they are all equal. The industry has exploded in recent years thanks to the prevalence of modern technology and new communication mediums, and during that time it has become increasingly clear that firms that want to stay in business need to take advantage of web design that will boost their architecture firms to the next level. While there are a vast array of options out there, it can be difficult to decide on only one to serve a brand. That is why 10 Best Design has started issuing monthly rankings of the best firms in the industry.
10 Best Design has a singular goal in mind, and that is to provide consumers with a comprehensive list of the current top architecture web design firms in the industry. They aim to do so with a complex system of equations that balances the most important factors of each service provider in order to accurately rank them. The winners for the month of December in 2016 have recently been announced, and the full list of all 10 winners is available online. The top three winners are briefly outlined below.
Big Drop Inc, the best architecture web design business for the month of December, is one of the most notably names in the field of digital marketing. Their services are geared toward a vast number of industries, and they could easily help just about any brand succeed in the digital marketplace. Their ability to craft stunning web platforms for a variety of industries is second to none, and everything they create is fully customized for the client.
Blue Fountain Media is a leading architecture web design firm that landed second on the list for December of 2016. They are one of the most trusted and well-respected digital marketing firms in the entire industry, and their services include a wide range of digital marketing solutions including search engine optimization, pay-per-click campaign management, and mobile app design and development. There isn't much that Blue Fountain Media can't do in the field of digital marketing.
Fine, which also was included on the list of top architecture web design firms, is a well-established company. It has a lot of experience working in the field of architecture web design and is fully capable of creating exactly what clients request. They are able to go above and beyond what their clients' request, and their work is some of the most creative and unique in the industry.
To learn more details about the winners in this awards category, please visit http://www.10bestdesign.com.