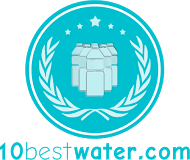 NEW YORK, N.Y. (PRWEB) June 27, 2016
As part of its new initiative to celebrate excellence in the bottled water industry, 10 Best Water is excited about its new monthly award for best artesian water brands. The honors for this month's award goes to three of the top artesian bottled water manufacturers in the world—Voss, Fiji Water and Indigo H2O.
Voss is the recipient of the first-place honors. The second-place award is presented to Fiji Water, and the third-place honor is presented to Indigo H20. These unique brands of artesian water use innovative processes to provide the artesian water enthusiasts around the world with the finest water available. 10 Best Water selected each of the recipients based on competitive ranking factors such as customer reviews, social media impact and consumer taste tests.
As the best artesian water brand, Voss is a product of the pristine waters of Norway. This premium water stands out among its competitors because it contains an abundance of healthy minerals and electrolytes. Sold in cylindrical bottles, Voss water is manufactured using a carbon neutral process that is eco-friendly. Headquartered in Oslo and New York City, the Voss brand has developed into a leader in the artesian water industry. This prestigious brand is sold in over 50 countries throughout the world.
Fiji Water been a trusted brand of refreshing artesian water for over 20 years. With its standing as a best artesian water brand, Fiji Water is synonymous with class, style and purity. As a product of the unspoiled waters of the Fiji Islands, Fiji artesian water has an alkaline pH of 7.7. This artesian water contains healthy amounts of magnesium, calcium and silica.
Indigo H2O was third on the list of this month's top artesian water brands. It comes from a glacial aquifer that has been unpolluted by the elements. As one of the most trusted brands of alkaline artesian water, it has a pH of 8.8. This makes it a nutritious choice of artesian water for health enthusiasts. Indigo H20 is served in the finest restaurants, hotels and establishments throughout the globe.
10 Best Water is comprised of professionals who have decades of experience identifying outstanding brands of bottled water. The members of the 10 Best Water team used qualitative and quantitative factors to select the recipients of this award.
For more information, visit http://www.10bestwater.com.