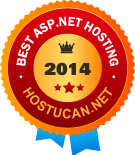 Arvixe is named as Best ASP.NET hosting in 2014.
(PRWEB) March 17, 2014
HostUcan.net, an industry leader in web hosting search and review website, has officially announced Arvixe as the "Best ASP.NET Hosting 2014". This award is rated by HostUcans professional editors experience and over thousands of real business customer reviews.
According to the overall performance of all the reviewed web hosts, Arvixe had surpassed all the competitors based on the review of the factors like Product Features, Price, Reliability, Performance and Microsoft technical Support. People could find the detail of Arvixe customers review at http://www.hostucan.net/company/arvixe.
Founded in San Luis Obispo 2003, Arvixe is a privately held limited liability corporation built on a basis of solid ground work & planned growth. Arvixe has been providing quality ASP.NET hosting products to personals and small business on a global level.
Arvixe ASP.NET hosting package includes features like IIS full trust, Isolated Application Pool, MSSQL, MySQL, 1 free domain, WebSitePanel Control Panel, unlimited disk space, unlimited monthly transfer along with free marketing credits such as: Google $100, Facebook $75 Yahoo and Bing.
Besides this, Arvixe offers a wide range of important ASP.NET frameworks which include the basic ASP, ASP.NET v2 - v3.5 & v4.5, also the latest ASP.NET AJAX, LINQ, MVC, Silverlight, URL rewrite module, and more than 30 ASP component libraries. All of these frameworks enable users to have a high level of flexibility and avoid compatible issue.
Arvixe offers affordable pricing for ASP.NET hosting at $5.00/month, but now customers can get 30% off through this Special Arvixe Hosting Promotion Link, all new customers will only pay $3.50/month. In addition, Arvixe has a 60 day money back guarantee so customers can ask for a full refund within 60 days and get a pro-rated refund at any time.
Performance is essential and Arvixe employs some of the latest cutting-edge technology. Their World-class data centers utilize Softlayers largest IDC (Internet Datacenter) which allows Arvixe to utilize ASP.NET hosting to the most advanced methods, including redundant power generators, high-powered network, multi-tiered network architecture, and state-of-the-art network operations center.
Arvixe customer support team is worthy of appreciation. The company provides their customers 24/7 technical support via toll-free phone call, email and live chat. With hundreds of representatives with professional knowledge of Windows, Arvixe support team is very talented with excellent experience to answer any complicated ASP.NET queries and questions.
HostUcan.net is a global leader in web hosting review and website, which ensures visitors to find web hosting solution best suited for their needs. This is done by HostUcan's Needs Oriented Search Engine which is built on the analysis customer review reports. To know all about HostUCan ASP.NET hosting list, please visit http://www.hostucan.net/group/aspnet-hosting.